Mental Health (Major Themes in Health and Social Welfare)
Author:
Unknown
ISBN-13:
9780415449502
ISBN:
0415449502
Edition:
1
Pub Date:
2008
Publisher:
Routledge
Summary:
Mental health and illness is one of the most fascinating and contested interdisciplinary areas of research, theory, and study. Scholars from fields such as psychology, sociology, social work, and law have, in particular, contributed to a rich literature which revolves around a number of key controversies and ongoing debates. Some of these include: What is mental health and illness? Indeed, are mental-health problems
...
illnesses at all? How do we measure mental health? What factors influence the diversity of meaning attached to mental-health problems? And what are their causes? Do they originate in our biological, genetic, or neurochemical make-up? Or in our personality or family upbringing? What role does social structure and culture play? Does treatment provide primarily care, or social control? Is the use of coercion justified? Are those with severe mental illnesses able to enjoy normal lives, and what role should they play in making life-decisions for themselves? What are the diverse systems of care that have emerged to care for those with mental-health problems? How does social inequality influence mental-health outcomes? And how do diverse social-cultural groups experience and treat mental-health problems? How does mental health influence physical health and vice versa? As research on and around these kinds of question continues to flourish as never before, this new title in the Routledge series, Major Themes in Health and Social Welfare, meets the need for an authoritative reference work to make sense of a rapidly growing and ever more complex corpus of literature, and to provide a map of the area as it has emerged and developed. It is a four-volume collection of foundational and the best cutting-edge scholarship in the field. The first volume in the collection ('The Meaning and Experience of Mental Illness') brings together the best work on the meaning of mental health and mental illness. Defining mental illness has often been especially controversial, with some serious thinkers even questioning its reality beyond a social construction to label the undesirable or different. Volume I includes material on the major theories about the aetiology of mental-health disorders and describes how individuals experience mental health and illness, with close attention to cross-cultural variation. In addition, the work gathered in Volume I reviews major systems for measuring and classifying mental illnesses, and includes recent research on the prevalence of mental illness across the world. Volume II ('Social Reaction to Mental Health Problems') focuses on the social reaction to mental illness and includes classic and contemporary work on the various ways in which groups and societies have treated those with mental-health problems. Central to this social response has been the reality of stigmatization. Because of the shame of mental illness, systems of care very often serve social-control functions and those with mental illnesses are subject to coercion, commitment, and criminalization. Volume II also brings together the best work from the counter movements for 'normalization, empowerment, and recovery', as well as research that explores mental illness as a type of disability. Volume III ('Changing Institutional Contexts for Care') assembles the most important research literature on the diverse systems of care which have emerged to deal with individuals with mental-health problems. Communal systems, institutionalized care, community-based care, and managed care all serve both therapeutic as well as social-control functions, and this part of the collection takes both a historical as well as a cross-cultural perspective, and links systems of care to the issues of therapeutic care and social control explored in Volume II. Volume IV ('Mental Health and the Structure of Society) draws on significant thinking about the relationship between mental health and other major social institutions. It includes a consid
[read more]
Rent

$2,216.79

Used

$1,753.99

New

$1,878.03
Product Details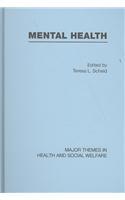 ISBN-13:
9780415449502
ISBN:
0415449502
Edition:
1st
Pub Date:
2008
Publisher:
Routledge
ValoreBooks.com is the #1 site for cheap Mental Health (Major Themes in Health and Social Welfare) rentals, or new and used copies for sale.