Mckettrick's Luck
Author:
ISBN-13:
9780373771851
ISBN:
0373771851
Pub Date:
2007
Publisher:
Harlequin Enterprises, Limited
Summary:
Mckettrick Land, Cheyenne Bridges thought stoically, as she stood next to her rented car on a gravel pullout alongside the highway, one hand shading her eyes from the Arizona sun. A faint drumbeat throbbed in her ears, an underground river flowing beneath her pulse, and she remembered a time shecould nothave remembered. An era when only the Great Spirit could lay claim to the valleys and canyons and mesas, to the arc
...
h of the sky, blue as her grandmother's favorite sugar bowl"a cherished premium plucked from some long-ago flour sack"to the red dirt and the scattered stands of white oak and Joshua and ponderosa pine. It had taken Angus McKettrick, and other intrepidly arrogant nineteenth-century pioneers like him, to fence in these thousands of square miles, to pen their signatures to deeds, to run cattle and dig wells and wrest a living from the rocky, thistle-strewn soil. Old Angus had passed that audacious sense of ownership on to his sons, and the sons of their sons, down through the generations. McKettricks forever and ever, amen. Cheyenne bit her lower lip. Her cell phone, lying on the passenger seat of the car, chimed like an arriving elevator"Nigel again. She ignored the insistent sound until it stopped, only too aware that the reprieve would be fleeting. Meanwhile, the land itself seemed to seep into her heart, rising like water finding its level in some dank, forgotten cistern. The feeling was bittersweet, a complex tangle of loneliness and homecoming and myriad other emotions she couldn't readily identify. She had sworn never to come back to this place. Never to set eyes on Jesse McKettrick again. And fate, in its inimitable way, was forcing her to do both those things. She sighed. An old blue pickup passed on the road, horn honking in exuberant greeting. A trail of cheerfully mournful country music thrummed in its wake, and the peeling sticker on the rear bumper read Save The Cowboys. Cheyenne waved, self-conscious in her trim black designer suit and high heels. This was bootsand-jeans country, and she'd stand out like the proverbial sore thumb the moment she drove into town. Welcome home,she thought ruefully. The cell chirped again, and she picked her way through the loose gravel to reach in through the open window and grabbed it. "It's about time you answered," Nigel Meerland snapped before she could draw a breath to say hello. "I was beginning to think you'd fallen into some manhole." "There aren't any manholes in Indian Rock," Cheyenne replied, making her way around to the driver's side and opening the door. "Have you contacted him yet?" Nigel didn't bother with niceties like "Hi, how are you?" either in person or over the telephone. He simply demanded what he wanted"and most of the time, he got it. "Nigel," Cheyenne said evenly, "I just got here. So,no,I have not contacted him."Himwas Jesse McKettrick. The last person in this or any other universe she wanted to see"not that Jesse would be able to place her in the long line of adoring women strung out behind him like the cars of a derailed freight train. "Well, you're burning daylight, kiddo," Nigel shot back. Her boss was in his late thirties and English, but he liked using colorful terms, with a liberal smattering of cliches.Westernisms,he called them. "Let's get this show on the road. I don't have to tell you how anxious our investors are to get that condo development underway." No,Cheyenne thought, sitting down sideways on the car seat, constrained by her tight skirt and swinging her legs in under the steering wheel,youdon'thave to tell me. I've heard nothing else for the last six months. "Jesse won't sell," she said. Realizing she'd spoken the thought aloud, she closed her eyes, braced for the inevitable response. "Hehasto sell," Nigel countered. "Failure is not an option. Everything"and I meanev

Miller, Linda Lael is the author of Mckettrick's Luck, published 2007 under ISBN 9780373771851 and 0373771851. Thirty eight Mckettrick's Luck textbooks are available for sale on ValoreBooks.com, thirty five used from the cheapest price of $0.01, or buy new starting at $1.01.
[read more]
Product Details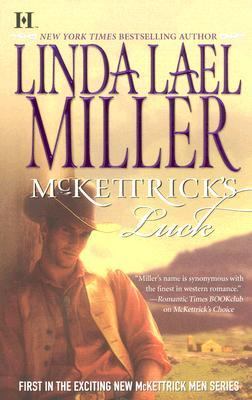 ISBN-13:
9780373771851
ISBN:
0373771851
Pub Date:
2007
Publisher:
Harlequin Enterprises, Limited
Valore Books is the best place for cheap Mckettrick's Luck rentals, or used and new condition books available to purchase and have shipped quickly.