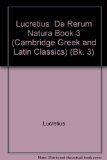 Lucretius: De Rerum Natura, Vol. 3 - Titus Lucretius Carus - Hardcover
Author:
ISBN-13:
9780521081429
ISBN:
0521081424
Publisher:
Cambridge University Press
Summary:
The De Rerum Natura of Lucretius is a sustained and impassioned protest against religious superstition and irrationality. The poem takes the form of a detailed exposition of Epicurean physical theory - an extreme materialism designed to remove and discredit popular fears of the gods, death and an afterlife.