Laws of Plato
Author:
ISBN-13:
9780226671109
ISBN:
0226671100
Pub Date:
1988
Publisher:
Univ of Chicago Pr
Summary:
The Laws, Plato's longest dialogue, has for centuries been recognized as the most comprehensive exposition of the practical consequences of his philosophy, a necessary corrective to the more visionary and utopian Republic. In this animated encounter between a foreign philosopher and a powerful statesman, not only do we see reflected, in Plato's own thought, eternal questions of the relation between political theory a
...
nd practice, but we also witness the working out of a detailed plan for a new political order that embodies the results of Plato's mature reflection on the family, the status of women, property rights, criminal law, and the role of religion and the fine arts in a healthy republic. "Because it succeeds in being both literal and comprehensive, it is by far superior to any translation available. By reproducing dramatic detail often omitted, such as oaths, hesitations, repetitions, and forms of address, Pangle allows the reader to follow the dialogue's interplay between argument and dramatic context. . . . Pangle's translation captures the excitement and the drama of Plato's text."--Mary P. Nichols, Ancient Philosophy "Pangle's achievement is remarkable. . . . The accompanying interpretive essay is an excellent distillation of a dialogue three times its size. The commentary is thoughtful, even profound; and it amply demonstrates the importance of reading Plato carefully and from a translation that is true to his language."--Patrick Coby, American Political Science Review

Pangle, Thomas L. is the author of Laws of Plato, published 1988 under ISBN 9780226671109 and 0226671100. Two hundred three Laws of Plato textbooks are available for sale on ValoreBooks.com, fifty three used from the cheapest price of $18.01, or buy new starting at $30.00.
[read more]
Product Details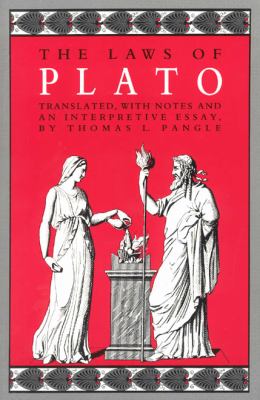 ISBN-13:
9780226671109
ISBN:
0226671100
Pub Date:
1988
Publisher:
Univ of Chicago Pr
www.ValoreBooks.com is the college student's top choice for cheap Laws of Plato rentals, or new and used copies ready to be shipped fast.