Kiss Unholy War
Author:
ISBN-13:
9781593070960
ISBN:
1593070969
Pub Date:
2004
Publisher:
Dark Horse Comics
Summary: The Demon, Starchild, Beast King, and the Celestial have been working and fighting side-by-side through the ages. Now, these superpowered beings are putting everything on the line, and their differences aside, to save the future of humanity from the darkest of threats - the malevolent and terrifying entity known as The Unholy. It's not going to be easy, especially now that they're fighting the battle on The Unholy's ...terms, and on his terrain - an apocalyptic other dimension where flying beasts lie in wait to attack, and there are no rules to the game, except those that will benefit his dark majesty. The world has never known a danger as real as The Unholy...then again, the world has never known heroes like KISS!

Baron, Mike is the author of Kiss Unholy War, published 2004 under ISBN 9781593070960 and 1593070969. Three Kiss Unholy War textbooks are available for sale on ValoreBooks.com, one used from the cheapest price of $8.45, or buy new starting at $5.38. [read more]
Product Details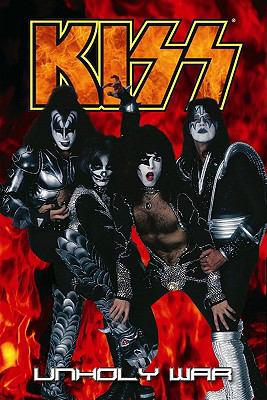 ISBN-13: 9781593070960
ISBN: 1593070969
Pub Date:
2004
Publisher:
Dark Horse Comics
Valore Books is the top book store for cheap Kiss Unholy War rentals, or used and new condition books available to purchase and have shipped quickly.