Keys for Writers
Author:
1 Customer Product Review
ISBN-13:
9780618753864
ISBN:
0618753869
Pub Date:
2007
Publisher:
Houghton Mifflin Co
Summary:
"Keys for Writers" is the most accessible, user-friendly handbook in the tabbed, comb-bound market. With a simple tabbing system (five red tabs for the writing process and research, and five gold tabs for sentence-level lessons), thorough and concise coverage of grammar, and an easy-to-read format, "Keys for Writers" is a valuable resource to students in all disciplines throughout their college careers.The Fifth Edit
...
ion features enhanced discussion of plagiarism (and how to avoid it), expanded argument coverage, a full literature paper, two-page "Source Shots" that visually demonstrate to students where to find citation information in different kinds of publications, and even more discussion of evaluating online sources and writing in and for online environments.An emphasis on critical reading and critical thinking appears throughout discussions of the writing process, argument, and research. Superior coverage of style includes the popular "5 C's of Style"--Cut, Check for Action, Connect, Commit, and Choose the Best Words--which helps students submit their best work.Critical reading and critical thinking features help students through the writing process, argument, and research.Thoroughly updated research chapters include a major new section devoted to avoiding plagiarism and new "Source Shots" that demonstrate visually where to find citation information in different kinds of sources, such as online databases.Superior ESL coverage takes a "difference, not deficit" approach. The text integrates Language and Culture boxes, new Editing Guides to Multilingual Transfer Errors and Vernacular Englishes, and ESL Notes."New!" A full student argument paper, and sample APA and ChicagoManual of Style papers serve as attainable models for student work.Key Points boxes; clear, two-part organization; laminated tabs; and color-coding make information accessible and easy to review.To support users of "Keys for Writers," the content-rich WriteSpace online writing program offers a wealth of interactive teaching and learning aids, including a new assessment resource and peer/instructor review tools. Additional features promote visual literacy, collaboration, and plagiarism prevention.

Raimes, Ann is the author of Keys for Writers, published 2007 under ISBN 9780618753864 and 0618753869. Four hundred forty nine Keys for Writers textbooks are available for sale on ValoreBooks.com, one hundred seventy seven used from the cheapest price of $0.01, or buy new starting at $15.00.
[read more]
Rent

$17.99

Used

$0.01

New

$15.00

Alternate

$1.50
Customer Product Reviews
1 REVIEW

5 star

(0)

4 star

(0)

3 star

(1)

2 star

(0)

1 star

(0)
The sentence structure section was a bit confusing to me because I didn't entirely understand how to organize thoughts and opinions and place them where they needed to be

I did understand how to cut down on the words I use to get my ideas across and use the right amount to place my ideas into better ones

read more
Product Details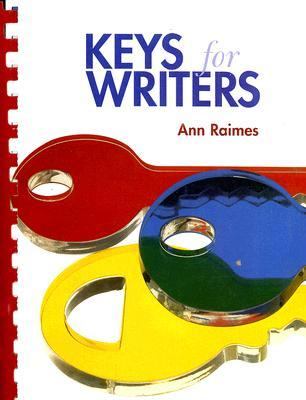 ISBN-13:
9780618753864
ISBN:
0618753869
Pub Date:
2007
Publisher:
Houghton Mifflin Co
www.ValoreBooks.com has some of the lowest prices for cheap Keys for Writers rentals, or new and used condition books ready for you to buy.