Kept A Comedy of Sex and Manners
Author:
ISBN-13:
9780743286848
ISBN:
0743286847
Pub Date:
2007
Publisher:
Simon & Schuster
Summary:
Chapter One: Not Applicable America still frightens me, even though I have lived here for more than half my life. Not several years ago, the two highest-grossing musical performers in this country belonged to the country-and-western genre: Garth Brooks and Reba McEntire. I don't even know who these people are, yet they sell more albums than all the remaining performers in the top seven combined, something like that.
...
If these people wanted to, they could take over the entire United States and run people like me into the ocean. I discovered this fascinating bit of music trivia from a radio show that was being piped through the examination room of a private Manhattan medical clinic, where I sat barefoot, awaiting a consultation with a doctor. A nurse handed me a clipboard with a pen tied to it, explaining, "Since this is an elective procedure, and not medically necessary, we don't want to commit to scheduling surgery until we discuss your comfort level with the consequences. You might want to fill out this questionnaire. The doctor will be with you shortly to chat." The questionnaire began: 1. Does your family have a history of hereditary illness (please include alcoholism, depression, etc.)? If so, please specify. ___YES___NO My father is a kleptomaniac; ought I to mention that? Once, from a restaurant, he stole a ceramic chopstick stand in the shape of a tiny whale. I don't know whether this is a hereditary trait, but, according to my father, it is an aristocratic vice. It's impossible to rebel against being an aristocrat. For, as I was constantly reminded, everything that an aristocrat does is axiomatically aristocratic, just as anything that a cat does is, by definition, catlike behavior. How can you escape from a tautology? People like us, I was told, face no real danger of being corrupted by our own actions. I can trace my Korean ancestry back twenty-eight generations on my father's side and twenty-six on my mother's side, both lines having commenced with Chinese royalty who chose to marry and settle in Korea. There are those who would call me a classist, but that term is misleading. It implies that I am in favor of maintaining a class system as such, when the truth is I don't really give a toss about maintaining any class except my own. It might appear that I was spoiled as a child. But how could I have been, when my family no longer has money -- well, we have a little, but not gobs of it. I must say, however, that the way we lost our wealth is rather romantic. On my mother's side, the family lands were seized and redistributed to the peasants by President Park in the 1960s. On my father's side, come to think of it, I believe they just pissed their money away. That's not so interesting, I suppose. To paraphrase Tolstoy -- a count, and therefore One of Us -- lower-class families are lower, each in their own way, but all aristocratic families are the same. When I was little, my father forbade me to become a professional pianist. "You can't be a genius with your mother and me as your parents," he said. It was simultaneously self-censure and self-praise. To be blue-blooded is to be decidedly antipathetic toward genius. Genius, after all, is a freakish, wayward gene, like the gene for six fingers or a third eye, and there's no way such a gene could have crept into our bloodline. I returned to the questionnaire. 2. Are your parents still living? If so, how would you rate their health? ___YES___NO (Good, Fair, Poor)? There wasn't a box to tick that said, "Are your parents in good health, but unequipped for the battle of life?" When my parents first met in the early 1960s, at a picnic sponsored by their university in Korea, the first thing that my father noticed about my mother was her pale, ghoulish complexion. For it is a fact universally acknowledged that aristocrats desire anything t

Hong, Y. Euny is the author of Kept A Comedy of Sex and Manners, published 2007 under ISBN 9780743286848 and 0743286847. Seventy four Kept A Comedy of Sex and Manners textbooks are available for sale on ValoreBooks.com, seventy used from the cheapest price of $3.94, or buy new starting at $0.99.
[read more]
Product Details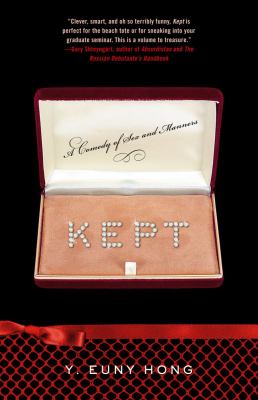 ISBN-13:
9780743286848
ISBN:
0743286847
Pub Date:
2007
Publisher:
Simon & Schuster
Valore Books is hard to beat for cheap Kept A Comedy of Sex and Manners rentals, or used and new copies available to buy.