Journey of Adulthood
Author:
1 Customer Product Review
ISBN-13:
9780205018055
ISBN:
020501805X
Edition:
7
Pub Date:
2010
Publisher:
Prentice Hall PTR
Summary: Are you searching for cheap Journey of Adulthood copies online? If you are looking for copies of this textbook as written by Barbara R Bjorklund and Helen L Bee, you are in luck. You can now buy Journey of Adulthood online from our marketplace, which offers the chance to rent the book as well. Published by Prentice Hall PTR, the book was released in 2010 and this is the 7th edition with plenty of new material and upd...ated sections as well. Look for the chance to rent Journey of Adulthood online for a semester if you wish, or for a quarter if it suits you.

Bjorklund, Barbara R. is the author of Journey of Adulthood, published 2010 under ISBN 9780205018055 and 020501805X. Five hundred fifty five Journey of Adulthood textbooks are available for sale on ValoreBooks.com, one hundred forty seven used from the cheapest price of $78.82, or buy new starting at $173.80. [read more]
Rent $37.24
Used $78.82
New $173.80
Alternate $80.35
Customer Product Reviews
1 REVIEW
5 star(1)
4 star(0)
3 star(0)
2 star(0)
1 star(0)
Average Customer Review
Journey of Adulthood was filled with marvelous stories about different situations in life. It showed you how to understand why things happen and then it gives reasons for them.

I learned a lot about myself and why situations had happened. I have also learned how to cope with different issues when they arose from my past.

read more
Product Details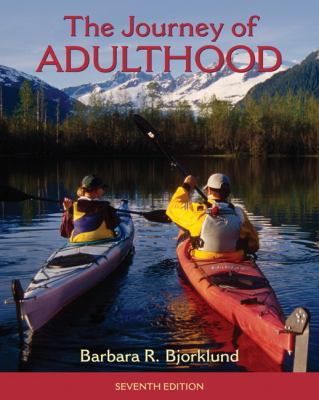 ISBN-13: 9780205018055
ISBN: 020501805X
Edition: 7th
Pub Date:
2010
Publisher:
Prentice Hall PTR
Valore Books is hard to beat for cheap Journey of Adulthood rentals, or new and used copies ready to be shipped fast.