Introductory Chemistry Essentials
Author:
7 Customer Product Reviews
ISBN-13:
9780321725998
ISBN:
0321725999
Edition:
4
Pub Date:
2011
Publisher:
Pearson Education
Summary:
Tro, Nivaldo J. is the author of Introductory Chemistry Essentials, published 2011 under ISBN 9780321725998 and 0321725999. Two hundred four Introductory Chemistry Essentials textbooks are available for sale on ValoreBooks.com, thirty six used from the cheapest price of $23.40, or buy new starting at $69.97.
Rent

$16.78

Used

$23.40

New

$69.97
Customer Product Reviews
7 REVIEWS

5 star

(2)

4 star

(2)

3 star

(2)

2 star

(1)

1 star

(0)
I haven't read extensively on the subject, but this book was really ponderous. Chemistry is confusing anyway, but sometimes the book made the explanations much more complicated than they needed to be. I used a lot of chemistry homework helper books, and they simplified what this book makes too confusing.

Chemistry is the subject - it covered it exhaustively. More than I needed to know.

read more

I would not change anything. I enjoyed the material and how it was laid out.

I was taking an online chemistry class. I didn't really use the book as I remembered most of the material from my high school class.

read more

Chemistry is a tough subject and my teacher has a very thick accent. I refer to the book a lot because I'm not getting all the information I need to understand from the teacher. This book is okay, like many chemistry books I've seen. Because it's hard for me, I review the book a lot.

I don't think the book good be better. It's all really basic and easier at explaining than most books I've read. It's easier to take notes from and I know what is important than other topics in the book.

read more

In a voltaic ell, electrical voltage is the driving force that caused electrons to flow. This helped with the understanding of oxidation and Reduction.

chemistry. The book covered the material really well.

read more

how to balance equations and all that other fun stuff about chemistry

Chemistry is was an okay book. I didn't really read a lot in the book because the teacher just gave us notes and followed along on the overhead

read more

It gave detailed diagrams and equation examples to help me visualize what I was reading so I could better learn the material.

It was intro to chemistry and it was a difficult course

read more

Molecules and compound and chemical composition is very helpful for me because after studying specifically these chapters, I understand that how a molecule or compound make, and what are the simplest way to make or find a chemical reaction.

Whole book is very useful but specially chemical reactions equations, exercises are very useful to me. Similarly, their articles are very interesting and shows to us how chemistry is involve in our daily lives.

read more
SEE MORE REVIEWS
Product Details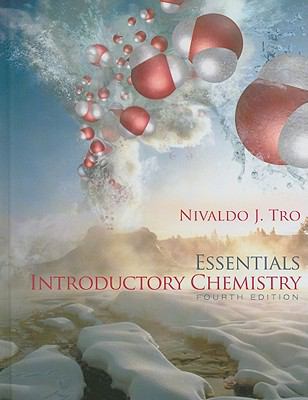 ISBN-13:
9780321725998
ISBN:
0321725999
Edition:
4th
Pub Date:
2011
Publisher:
Pearson Education
ValoreBooks.com is unbeatable for cheap Introductory Chemistry Essentials rentals, or new and used condition books for purchase.