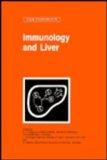 Immunology and Liver (Falk Symposium)
Author:
Unknown
ISBN-13:
9780792388302
ISBN:
0792388305
Edition:
1
Pub Date:
1993
Publisher:
Springer
Summary:
Increasing knowledge of the immune system has facilitated a deeper insight into the aetiology and pathogenesis of numerous diseases, which already influences the clinician's daily work. Immunology is of particular relevance to inflammatory liver diseases. This book reviews the latest progress in this area. The emphasis is on virus-induced liver diseases as well as on the main groups of autoimmune liver diseases: auto
...
immune chronic active hepatitis, primary biliary cirrhosis and primary sclerosing cholangitis. Also discussed is the contribution of the immune system to liver cell destruction and chronicity of viral infections including the latest discoveries on hepatitis C and the application of cytokines in the treatment of chronic hepatitis. Significant progress has been made in autoimmune liver diseases concerning the identification and characterization of autoantigens. Furthermore new therapeutic strategies have been developed in autoimmune liver diseases such as urso-deoxycholic acid in primary biliary cirrhosis.
[read more]
Product Details
ISBN-13:
9780792388302
ISBN:
0792388305
Edition:
1st
Pub Date:
1993
Publisher:
Springer