How to Mom
Author:
ISBN-13:
9780440506560
ISBN:
0440506565
Pub Date:
1995
Publisher:
Dell
Summary:
For Moms Everywhere: How did your mom know how to put on puppet shows, fix boo boos, and make the best chocolate chip cookies ever? This terrific Mother's Day gift--and partner to Dell's delightful and successful How To Dad --is a wonderful guide to fun and inventive activities moms can do with their kids. Who taught you to write thank-you notes or to make your bed? Who planned your birthday parties, made your Hallow
...
een costumes, and dressed you up for visits to Grandma's? Why, Mom, of course. Celebrating the very essence of momness, How To Mom is not only a warmly nostalgic look at all the incredible things mothers do, but also a light-hearted yet practical guide for new moms whose very job description demands that they know these things. Step-by-step instructions, with fun and helpful illustrations, explain how to do the following activities together with your kids: How to play hopscotch. How to make believe. How to build a gingerbread house. How to lead a cheer. How to draw a family tree. How to write a thank-you note. And much more! Practical, humorous, entertaining, and educational, How To Mom makes an ideal gift for Mother's Day or any day.

John Boswell is the author of How to Mom, published 1995 under ISBN 9780440506560 and 0440506565. Four How to Mom textbooks are available for sale on ValoreBooks.com, three used from the cheapest price of $0.28, or buy new starting at $11.74.
[read more]
Product Details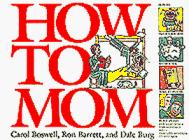 ISBN-13:
9780440506560
ISBN:
0440506565
Pub Date:
1995
Publisher:
Dell
ValoreBooks.com is hard to beat for cheap How to Mom rentals, or used and new copies available to buy.