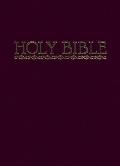 Holy Bible King James Version, Blue - Burgundy Ribbion Family Edition
Author:
ISBN-13:
9781556652301
ISBN:
1556652305
Pub Date:
1995
Publisher:
Fireside Catholic Bibles
Summary:
This Bible was written for YOU! Motivating and constructive, the Fireside Catholic Youth Bible speaks to you as a Catholic teen. Enabling you to grow emotionally and spiritually in your Catholic faith, a collection of insightful and thought-provoking articles is presented in five comprehensive sections. Book jacket.
Product Details
ISBN-13:
9781556652301
ISBN:
1556652305
Pub Date:
1995
Publisher:
Fireside Catholic Bibles