Hepatitis B The Hunt for a Killer Virus
Author:
ISBN-13:
9780691116235
ISBN:
0691116237
Publisher:
Princeton University Press
Summary:
"Hepatitis Bis one of the world's most common viruses--and one of the top ten killers. Unlike much else in our often gloom-filled world, it looks likely that HBV will be effectively controlled, and possibly eradicated, within the next decade. If so, Baruch Blumberg will deserve a large share of the credit. But this book is much more than a scientific success story. It vividly conveys the existential adventure of scie
...
nce: the surprises, disappointments, exhilaration, and dull routines whose results serve us all so well."--Robert M. May, President of the Royal Society "A thoroughly engaging history of one of the most important medical discoveries of the century, recounted with keen insight, lively wit, and remarkable humility. Rarely is one afforded such an opportunity to learn firsthand from a world-class scientist how new paradigms in biology result from relentless questioning and intellectual passion."--Jerome Groopman, Professor of Medicine, Harvard Medical School, author ofThe Measure of our Days "A pioneer in the field, Blumberg has a unique insight and perspective. He clearly presents a superb account of the story of hepatitis B virus discovery and argues, interestingly, how such a discovery can mirror the general process by which scientific ideas evolve, including the contributions of chance, good fortune, intelligence, and hard work."--Tonse N. Raju, Professor of Pediatrics, University of Illinois at Chicago, author ofThe Nobel Chronicles "Baruch Blumberg, Nobel-prize winner for his discovery of the hepatitis B virus, has never before woven all the strands of the story into a full tapestry. What makes the story doubly fascinating is the world-wide public health importance of hepatitis B, as much of a killer as AIDS. Blumberg is an eloquent writer giving a fascinating account. General readers and experts alike will find this an enjoyable book, not least for the vivid touches that feel first-hand."--Jenny Stanton, History Group, London School of Hygiene and Tropical Medicine

Blumberg, Baruch S. is the author of Hepatitis B The Hunt for a Killer Virus, published under ISBN 9780691116235 and 0691116237. Two hundred ten Hepatitis B The Hunt for a Killer Virus textbooks are available for sale on ValoreBooks.com, fifty two used from the cheapest price of $14.49, or buy new starting at $23.18.
[read more]
Product Details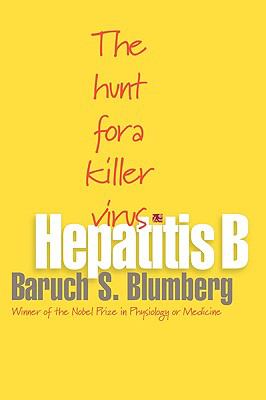 ISBN-13:
9780691116235
ISBN:
0691116237
Publisher:
Princeton University Press
Valore Books is the best place for cheap Hepatitis B The Hunt for a Killer Virus rentals, or used and new condition books available to purchase and have shipped quickly.