Hell's Faire
Author:
ISBN-13:
9780743436045
ISBN:
0743436040
Publisher:
Baen Books
Summary: With the defences of the Southern Appalachians sundered, the only thing standing between the ravening Posleen hordes and the soft interior of the Cumberland Plateau are the veterans of the 555th Mobile Infantry. Dropped into Rabun Pass, the only question is which will run out first: power, bullets or bodies.

Ringo, John is the author of Hell's Faire, published under ISBN 9780743436045 and 0743436040. Two hun...dred twenty seven Hell's Faire textbooks are available for sale on ValoreBooks.com, one hundred twenty four used from the cheapest price of $0.01, or buy new starting at $4.71. [read more]
Product Details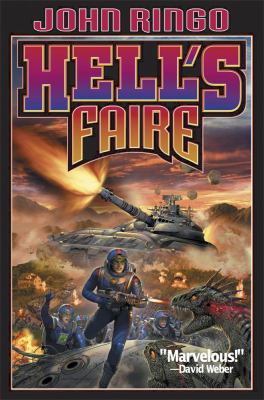 ISBN-13: 9780743436045
ISBN: 0743436040
Publisher:
Baen Books
Valore Books is unbeatable for cheap Hell's Faire rentals, or used and new condition books that can be mailed to you in no time.