Health Policy and Economics (State of Health)
Author:
ISBN-13:
9780335215751
ISBN:
0335215750
Edition:
1
Pub Date:
2004
Publisher:
Open University Press
Summary:
In its brief lifetime, health economics has made major contributions to the development of health policy in many countries. This book describes those successes, but it also looks forward to the major contributions that health economics can bring to bear on emerging policy issues in health and health care in the future. The book originated from a conference to celebrate twenty years of research at the Centre for Healt
...
h Economics at the University of York. It contains contributions from many of the internationally recognized researchers at the Centre and their colleagues, and seeks to address generic policy issues confronting health systems across the developed world. The coverage progresses from micro, patient level issues to macro, whole system issues. Topics covered include: determining the most cost-effective treatment to offer patients; policy issues of fairness and the distribution of health within the population; regulatory issues, in the form of performance measurement and incentives for organizations and individual workers; distributing revenue and capital finances; and the implications of simultaneously increased decentralization and increased internationalization of health systems. Contributors: Paul Kind; Martin Buxton; Mark J Sculpher; Karl P Claxton; Ron L. Akehurst; Alan H Williams; Paul Dolan; Aki Tsuchiya; Andrew M Jones; Nigel Rice; Maria Goddard; Hugh Gravelle; Richard Cookson; Rowena Jacobs; Andrew D Street; Alan K Maynard; Karen E Bloor; Matthew Sutton; Diane A Dawson; Peter C Smith; Rosella Levaggi; Mike Drummond and Adrian Towse.
[read more]
Product Details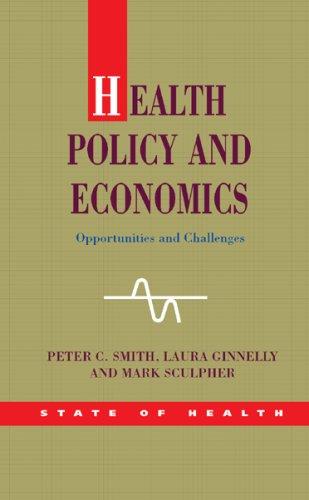 ISBN-13:
9780335215751
ISBN:
0335215750
Edition:
1st
Pub Date:
2004
Publisher:
Open University Press