Greek
Author:
ISBN-13:
9781405134163
ISBN:
140513416X
Pub Date:
2009
Publisher:
Wiley & Sons, Limited, John
Summary:
Blurb from first ed: Tracing the development of the Greek language from the Mycenean period of the second millenium BC to the late 1990s, this volume combines both external and internal history into a single narrative. It explores, in English, the evolution of the Greek language as a whole, in all its regional and social heterogeneity, and in both its spoken and written forms. The main study is supported throughout b
...
y detailed summaries of key developments in checklist form and an examination of selected texts to highlight major points. Maps are also used to illustrate more clearly the distribution of the ancient dialects and the geographical spread of the language in the early Middle Ages. A bibliography for further reading and study is also provided.Sales of first edition: HB: 265 and PB: 2,283. The book was originally published by Pearson/Longman in 1997.Longman put this out of print (according to the author) when they decided to focus more on big textbooks. He has had a major falling out with them about the treatment of the series (Longman Linguistics Library) for which he was one of the series editors.This book is considered a minor classic. It is the only book that gives a full linguistic treatment to the whole history of the Greek language.Horrocks originally wanted to revise the whole book according to a new focus on the issue of 'diglossia' (the fact the Greece had written and spoken versions of the language). The reviewers thought that this was an attractive addition, but there was still a strong demand for the linguistic content of the original book.With further discussion, the author is now is happy to bring in the new material extending the socio-historial theme of 'diglossia' while retaining the linguistic detail. He has agreed to expand the 'ancient' bit, while simultaneously reorganising material as necessary to keep the 'diglossia' theme more consistently in the foreground of the exposition.
[read more]
Product Details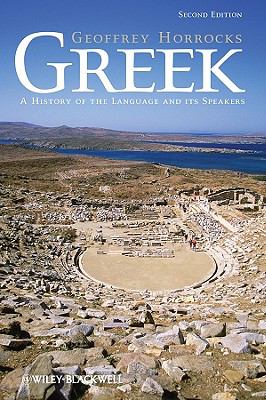 ISBN-13:
9781405134163
ISBN:
140513416X
Pub Date:
2009
Publisher:
Wiley & Sons, Limited, John