Fundamentals of Hearing
Author:
ISBN-13:
9780127726908
ISBN:
012772690X
Edition:
3
Publisher:
Elsevier Science & Technology Books
Summary: This Third Edition of Yost's successful book on hearing completely updates and expands the fundamental facts about hearing. Written for undergraduates with a minimal background in science and math, the book makes full use of appendices, glossaries, indices, and supplemental material. The book is divided into four broad sections on the Auditory Stimulus, Auditory Anatomy and Physiology, Perception of Simple Sounds, an...d Complex Sound Processing. Each chapter presents information clearly and concisely, and reviews core information in a chapter summary. KEY FEATURES Covers both physics and physiology in equal measure Reorganized and fully updated to reflect advances in the hearing sciences Structured as a user-friendly textbook, containing italicized key words, chapter summaries, supplemental information, and literature reviews Includes subject and author indices and a list of abbreviations used in the book Contains six appendices on sinusoidal functions, logarithms and decibels, Fourier Series, psychophysics, neural anatomy and physiology, and techniques and tools used to study hearing

Yost, William A. is the author of Fundamentals of Hearing, published under ISBN 9780127726908 and 012772690X. Twenty Fundamentals of Hearing textbooks are available for sale on ValoreBooks.com, eight used from the cheapest price of $0.01, or buy new starting at $33.26. [read more]
Product Details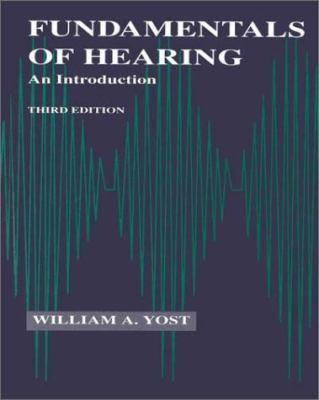 ISBN-13: 9780127726908
ISBN: 012772690X
Edition: 3rd
Publisher:
Elsevier Science & Technology Books
www.ValoreBooks.com is the smartest bookstore for cheap Fundamentals of Hearing rentals, or used and new copies that can get to you quickly.