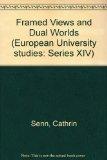 Framed Views and Dual Worlds: The Motif of the Window As a Narrative Device and Structural Metaphor in Prose Fiction (Europaische Hochschulschriften. ... Sprache Und Literatur, Bd. 375.)
Author:
ISBN-13:
9780820450940
ISBN:
0820450944
Publisher:
Peter Lang Pub Inc
Summary:
The window is an everyday object and thus frequently appears in prose fiction. However, at the beginning of the nineteenth century, the window emerges as a dominant motif in both painting and literature and has held an important position up to the present day. This original study of the window in prose fiction in English shows that the window occurs as a distinct motif in the works of some of the major writers of the
...
nineteenth and twentieth centuries, appearing in the fiction of Nathaniel Hawthorne, Charles Dickens, the Brontë sisters, George Eliot, Thomas Hardy, Henry James, Oscar Wilde, James Joyce, Virginia Woolf, F. Scott Fitzgerald, William Faulkner, Ernest Hemingway and Vladimir Nabokov. The author attempts a new categorisation by differentiating between the window as a frame or limited opening and the window as a transparent medium separating inside and outside. In contrast to conventional thematic interpretations, the book focuses on the window's properties in relation to textual and narrative structures, examining its appearance at the opening and close of a piece of fiction, its use as a frame to a picture, and its role in generating dual worlds.
[read more]