Foundations of Exercise Psychology
Author:
ISBN-13:
9781885693693
ISBN:
1885693699
Edition:
2
Pub Date:
2006
Publisher:
Fitness Information Technology
Summary:
Though exercise is relatively easy to do, its influence on our physical, psychological, and spiritual well-being is complex. Even those who are aware of its positive effects are sometimes reluctant to begin. Why do some people maintain a regular exercise regimen while others quit after a few weeks? How does exercise influence mental health? If medical, health, fitness, psychology, and athletic professionals are to he
...
lp their clients, they must understand the issues that surround the psychology of exercise. 'Foundations of Exercise Psychology' presents a summary of the information to date on the psychology of exercise and offers lucid suggestions for practice and future research. 'Foundations of Exercise Psychology' will help to shape the direction of the field of exercise psychology for many years to come, and it will do much to encourage young professionals to enter the field and to pursue further study. Students moving toward the exercise professions will gain a solid background in key issues surrounding exercise and health and make great strides forward in becoming competent and compassionate practitioners. The contents of the book go well beyond past texts in the field and include some innovative and thought-provoking chapters on little discussed topics in exercise psychology such as the meaning of exercise and the psychological and physical dangers when exercise goes awry. The text spends considerable time exploring the relationship between exercise and personality, self-esteem, self-concept, mood alteration and motivation -- concepts and features of being human that are all intimately related. The range of populations examined includes women, children, dependent and habitual exercisers, and participants throughout the life span.

Berger, Bonnie G. is the author of Foundations of Exercise Psychology, published 2006 under ISBN 9781885693693 and 1885693699. Two hundred four Foundations of Exercise Psychology textbooks are available for sale on ValoreBooks.com, fifty three used from the cheapest price of $31.34, or buy new starting at $85.97.
[read more]
Rent

$24.70

Used

$31.34

New

$85.97
Product Details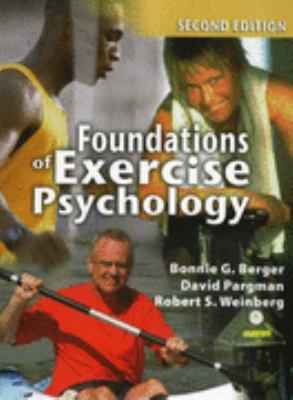 ISBN-13:
9781885693693
ISBN:
1885693699
Edition:
2nd
Pub Date:
2006
Publisher:
Fitness Information Technology
Valore Books is your source for cheap Foundations of Exercise Psychology rentals, or used and new copies available to buy.