Exceptional Children An Introduction to Special Education
Author:
ISBN-13:
9780130993441
ISBN:
0130993441
Pub Date:
2002
Publisher:
Prentice Hall
Summary:
Widely recognized for its innovation, strong research base, and accessibility, the new edition of William Heward'sExceptional Children: An Introduction to Special Educationhelps prepare readers to become effective special educators using three themes: EFFECTIVE TEACHERS ENGAGE IN PROFESSIONAL DEVELOPMENT CEC Professional Standards and Praxis Competencies: Through joint agreements with the Council for Exceptional Chil
...
dren (CEC) and the Educational Testing Services, new CEC and PRAXIS margin notes link critical text content to knowledge and skill statements from CEC's Professional Standards for Beginning Teachers and to material on PRAXIS tests for special educators. Observe Master Teachers: New to this edition, each chapter opens with the profile of a real teacher of exceptional children. Drawn from urban, suburban, and rural environments, these teachers' stories reflect the joys, challenges, and realities of actual classrooms and allow readers to observe master teachers at work. The Most Current Coverage: This edition provides coverage of the latest assistive technologies such as hand-held PDAs, the newly revised 2002 definition and classification system for mental retardation issued by the AAMR, and hundreds of new references. EFFECTIVE TEACHERS KNOW THEIR STUDENTS AND KNOW WHAT WORKS Effective Intervention Strategies: "Teaching & Learning" feature boxes describe proven strategies that are classroom-tested and validated by research. First-Person Accounts: "Profiles & Perspectives" feature boxes highlight the struggles and triumphs of persons with disabilities and share the views of parents, special educators, and other professionals. Depth of Coverage: Exceptional Childrenprovides the most comprehensive coverage of the characteristics of learners with special needs. For example, this is the only text in the market that devotes complete chapters to early childhood special education, transition to adulthood, and working with parents and families. EFFECTIVE: TEACHERS INCORPORATE MULTIMEDIA Companion Website: Located at www.prenhall.com/heward , the user-friendly Companion Website (CW) provides online resources for professors as well as students and is integrated into the textbook via CW margin notes. Online Courses: Robust web-based courses in Course Compass and Blackboard formats are easy to implement, manage, and use, and help you incorporate technology into your classroom or deliver instruction online. Teaching and Learning Video Library: The Teaching and Learning Video Library contains five compelling videos with topics ranging from inclusion, IDEA, and IEP decision making to classwide peer tutoring and post-secondary transitions. Developing Quality IEPs: A Case-Based TutorialCD-ROM: The free CD-ROM packaged with every copy of the text walks students through the development of IEPs, providing two interactive tutorials, six case studies, and a variety of additional resources.

Heward, William L. is the author of Exceptional Children An Introduction to Special Education, published 2002 under ISBN 9780130993441 and 0130993441. Twenty four Exceptional Children An Introduction to Special Education textbooks are available for sale on ValoreBooks.com, twenty three used from the cheapest price of $0.01, or buy new starting at $18.70.
[read more]
Product Details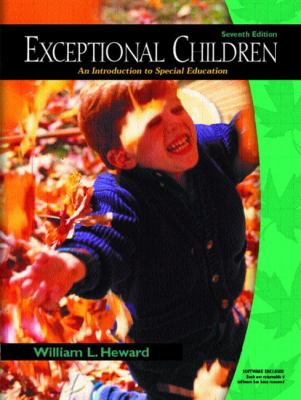 ISBN-13:
9780130993441
ISBN:
0130993441
Pub Date:
2002
Publisher:
Prentice Hall
ValoreBooks.com is a student's number one resource for cheap Exceptional Children An Introduction to Special Education rentals, or new and used condition books ready for you to buy.