Everyone's An Author with Readings
Author:
7 Customer Product Reviews
ISBN-13:
9780393912012
ISBN:
0393912019
Pub Date:
2012
Publisher:
W. W. Norton & Company
Summary:
Andrea Lunsford is the author of Everyone's An Author with Readings, published 2012 under ISBN 9780393912012 and 0393912019. Four hundred fifteen Everyone's An Author with Readings textbooks are available for sale on ValoreBooks.com, sixty five used from the cheapest price of $45.79, or buy new starting at $71.49.
Rent

$18.98

Used

$45.79

New

$71.49

Alternate

$59.45
Customer Product Reviews
7 REVIEWS

5 star

(1)

4 star

(6)

3 star

(0)

2 star

(0)

1 star

(0)
The class that required I use this book was an eng01 class and the class was fairly hard for me to follow but the book helped me a lot it's very easy to understand.

This book was great. I really wouldn't change anything but if I could add something I would add side notes and tips.

read more

This book does a great job of providing real world examples of papers, and can use those as guidelines the write your own paper. You will need to be a well seasoned, or have some creativity when reading this book and when writing your papers (from the book).

By using the examples and readings in the book, I was able to improve my writing skills and add some flair to it.

read more

The primary subject was writing skills and how to write a good paper. I used this book and got A's on all of my papers! Very useful!

The examples are very good. They certainly help explain different concepts.

read more

Very current with clear explanations of concepts introduced.

Being able to interpret and apply information provided in modern media whether it be in the press or on a website. The book gave good ways in which to approach the information with different mindsets to effectively understand how the media was being portrayed to the reader.

read more

if I could change one thing about this book I would probably would have wanted the author to include more grammar tips to help people with their overall writing. Somewhere between the MLA and APA writing styles.

I have to admit that some of the examples given were quite hard to understand. With that being said several of the examples were unhelpful.

read more

The highlighting of the words because everything that was being discussed was just as important as the highlighted words.

The primary subject if this book is helping people improve their writing by making it more focused and specific. The book was extremely effective because through the provision of examples, readers were able to get a better understanding of the material.

read more

The book's content is great doesn't really need change, but the cover is a little too soft.

It gave me a better idea of what a writer is, and the things needed to be a writer

read more
SEE MORE REVIEWS
Product Details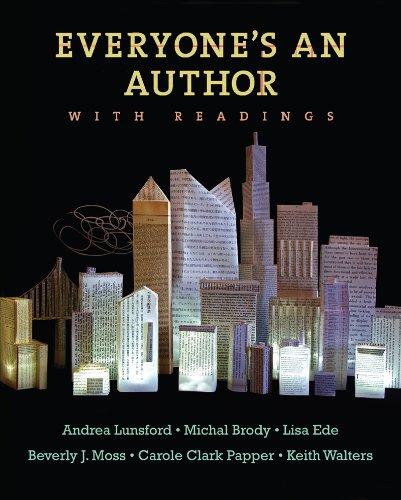 ISBN-13:
9780393912012
ISBN:
0393912019
Pub Date:
2012
Publisher:
W. W. Norton & Company
www.ValoreBooks.com is the #1 site for cheap Everyone's An Author with Readings rentals, or new and used copies for sale.