Europe and the Middle Ages
Author:
ISBN-13:
9780130967725
ISBN:
0130967726
Edition:
4
Pub Date:
2003
Publisher:
Prentice Hall
Summary:
This comprehensive, well-balanced historical survey of medieval Europe--from Roman imperial provinces to the Renaissance--covers all aspects of the history (political, literary, religious, intellectual, etc.) with a focus on social and political themes. It presents a complete picture of the complex process by which an ecumenical civilization that once ringed the basin of the Mediterranean Sea evolved into three other
...
distinctive civilizations--Latin Europe, Greek Eastern Europe and Asia Minor, and Islam. The fourth edition strengthens the emphasis of the book on the nature of the "Middle Ages" as the formative period in the early history of Europe, from the transformations of the myth of Europa to the formation of landscape and the emergence of a distinctive European civilization. New to this edition: Revision of the treatment of the Roman imperial world and the history of early Christianity in that world. Updated chapters on Islam and discussion of the interaction of western European, Byzantine, and Islamic civilizations. The addition of substantial material on Ireland and Scotland, the calendars of the working and ecclesiastical years, and servitude and freedom. Expansion of the sections on intellectual history dealing with the social impact of thinkers and the treatment of the various crises of the early fourteenth century. Consolidation of the bibliographies into a single running section with topical essays and the addition of sources published as recently as 2003.

Peters, Edward M. is the author of Europe and the Middle Ages, published 2003 under ISBN 9780130967725 and 0130967726. Two hundred twenty seven Europe and the Middle Ages textbooks are available for sale on ValoreBooks.com, seventy four used from the cheapest price of $4.45, or buy new starting at $39.42.
[read more]
Rent

$49.37

Used

$4.45

New

$39.42
Product Details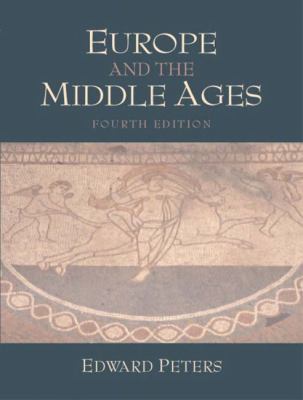 ISBN-13:
9780130967725
ISBN:
0130967726
Edition:
4th
Pub Date:
2003
Publisher:
Prentice Hall
Valore Books is hard to beat for cheap Europe and the Middle Ages rentals, or new and used copies ready to be shipped fast.