Environmental and Natural Resource Economics
Author:
ISBN-13:
9780131131637
ISBN:
013113163X
Edition:
1
Pub Date:
2005
Publisher:
Prentice Hall
Summary:
Preface Few modern issues have so dramatically influenced consumer decisions, personal lifestyles, corporate planning, and public policy as environmental and natural resource problems. The years since 1970 have seen changes in product design and packaging, corporate investments, personal career and lifestyle choices, government tax policies, and emerging technologies to name but a few because public and private decis
...
ions are now shaped by environmental and natural resource issues. With this book, I hope to bring those of you starting your study of environmental and natural resource economics close to today's exciting policy issues and introduce you to the theories and methods of analysis that economists use to approach these issues. This book shows you how economic tools, such as benefit-cost analysis, can be used to understand a wide range of real environmental and natural resource problems. The tools of economists can help design practical policy solutions to environmental problems. They also can contribute to public debate about complicated and emotional environmental issues by providing a framework that is universal, rigorous and testable. This book is intended to be readable by students who have completed one semester of microeconomic principles, but it also will engage students with a wider economics background. The aim of the book is to provide an introduction to environmental and natural resource issues and to describe economic theories and methods used by experts working in the field. Graphs, tables, and numerical examples are included to reinforce the principles presented in the text. No mathematics beyond simple algebra is required. All mathematics beyond algebra (e.g., calculus) is relegated to footnotes and appendixes. Most chapters have several numbered examples that present current, real-life examples for research and policy applications of the economic principles discussed in the chapter. Each chapter ends with questions that provide an opportunity to apply the chapter's material through class discussion, personal reflection, and exam preparation. The appendixes at the end of the book include advanced quantitative methods of analysis. The topics and structure of this book encourage its use for a variety of course work. All of the chapters could find a place in an upper division environmental economics course. Some chapters could be a source for graduate student or others who wish to pursue more specialized research interests. There may be more material in this book that can be cover well in one semester. The additional information opens up options for selecting topics that best cover the interests, expectations, and backgrounds of instructors and students. For example, a one-semester course in environmental economics could be organized around Chapters 1 ? 7 and 14 ? 19. If a brief introduction to natural resource economics is desired, Chapter 8 and/or 12 could be added. A one-term course in natural resource economics could cover Chapters 1- 6 and 8 ? 13. An introduction to environmental economics could be accomplished by adding Chapter 7 and/or Chapter 16. This focuses on environmental and natural resource policy. It presents a considerable amount of economic theory, methods, and data for the purpose of gaining a better insight into policy solutions. Although this is an economics book, it is not limited to economics. Economics is not a stand-alone discipline; rather, other disciplines complement the ability of economics to sharpen our understanding pf policy issues. The disciplines of biology, the physical sciences, law, history, political science, and philosophy are introduced where their insights enhance the power of economics in confronting policy problems. In some cases, combining other disciplines with economics presents contrasting views of a problem, focuses a policy debate, or suggests competing hypotheses in the search for policy solu

Frank Ward is the author of Environmental and Natural Resource Economics, published 2005 under ISBN 9780131131637 and 013113163X. Two hundred twenty six Environmental and Natural Resource Economics textbooks are available for sale on ValoreBooks.com, sixty nine used from the cheapest price of $76.80, or buy new starting at $154.11.
[read more]
Rent

$46.10

Used

$76.80

New

$154.11
Product Details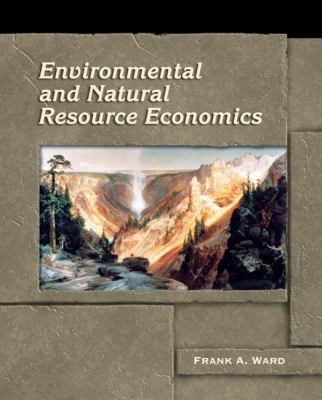 ISBN-13:
9780131131637
ISBN:
013113163X
Edition:
1st
Pub Date:
2005
Publisher:
Prentice Hall
www.ValoreBooks.com is unbeatable for cheap Environmental and Natural Resource Economics rentals, or new and used condition books ready for you to buy.