Environment
Author:
ISBN-13:
9780470119266
ISBN:
0470119268
Edition:
6
Pub Date:
2008
Publisher:
Wiley, John & Sons, Incorporated
Summary:
A Journey into Environmental Science Just as a Global Positioning System helps you steer your car through systems of roads and highways, Environment, 6th Edition helps you navigate the interconnected-environmental systems presented in your environmental science course. By taking you from general principles to specific applications, Environment, 6th Edition helps you direct your path to understanding today's interrela
...
ted issues in environmental science. Environment, 6th Edition effectively blends solid scientific content with many examples of problems and solutions empowering you to make informed and responsible choices as you progress on your journey. On your journey with Environment, 6th Edition you will: Explore how the various aspects of the environment interact and connect, and thus how changes in one part of the environment can affect other parts. Reach your own informed decisions on the various perspectives of environmental issues affecting the world today. Plus, a wealth of resources are available to you online including: WileyPLUS, a powerful online tool that provides you with an integrated suite of learning resources, including an online version of the text, in one easy-to-use website. New "Campus EnviroNews" which connect current environment issues to students' lives on campus. And additional information and resources, including real environmental news video footage from around the world and in your own geographic region and backyard.

Berg, Linda R. is the author of Environment, published 2008 under ISBN 9780470119266 and 0470119268. One hundred forty seven Environment textbooks are available for sale on ValoreBooks.com, eighty nine used from the cheapest price of $3.94, or buy new starting at $44.21.
[read more]
Product Details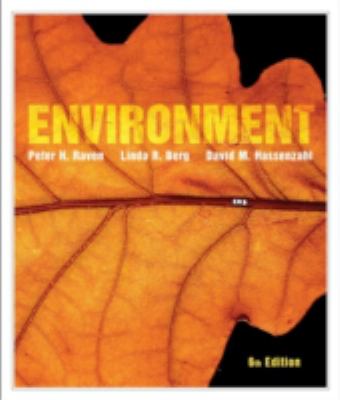 ISBN-13:
9780470119266
ISBN:
0470119268
Edition:
6th
Pub Date:
2008
Publisher:
Wiley, John & Sons, Incorporated
www.ValoreBooks.com is a student's number one resource for cheap Environment rentals, or used and new condition books that can be mailed to you in no time.