Elizabeth Cady Stanton, Feminist As Thinker A Reader in Documents and Essays
Author:
ISBN-13:
9780814719817
ISBN:
0814719813
Pub Date:
2007
Publisher:
New York University Press
Summary:
It is high time to respect Elizabeth Cady Stanton as a founding thinker and actor in the shaping of American society, politics, and ideas. This fascinating book enriches our understanding by giving us her own most eloquent words accompanied by the wise evaluations of some of our leading historians and writers.-- Linda K. Kerber, author of "No Constitutional Right to Be Ladies: Women and the Obligations of Citizenship
...
" "I picked up this book wondering what, if anything, even these formidable scholars could tell me about Elizabeth Cady Stanton that I hadn't already read. I put it down in awe-- with a new appreciation of Stanton's brilliance, originality, and complexity as the intellectual genius behind the first wave of feminism. Her 19th century vision resonates for everyone in 21st century America."-- Lynn Sherr, ABC News More than one hundred years after her death, Elizabeth Cady Stanton still stands-- along with her close friend Susan B. Anthony-- as the major icon of the struggle for women's suffrage. In spite of this celebrity, Stanton's intellectual contributions have been largely overshadowed by the focus on her political activities, and she is yet to be recognized as one of the major thinkers of the nineteenth century. Here, at long last, is a single volume exploring and presenting Stanton's thoughtful, original, lifelong inquiries into the nature, origins, range, and solutions of women's subordination. Elizabeth Cady Stanton, Feminist as Thinker reintroduces, contextualizes, and critiques Stanton's numerous contributions to modern thought. It juxtaposes a selection of Stanton's own writings, many of them previously unavailable, with eightoriginal essays by prominent historians and social theorists interrogating Stanton's views on such pressing social issues as religion, marriage, race, the self and community, and her place among leading nineteenth century feminist thinkers. Taken together, these essays and documents reveal the different facets, enduring insights, and fascinating contradictions of the work of one of the great thinkers of the feminist tradition. Contributors: Barbara Caine, Richard Cndida Smith, Ellen Carol DuBois, Ann D. Gordon, Vivian Gornick, Kathi Kern, Michele Mitchell, and Christine Stansell.
[read more]
Product Details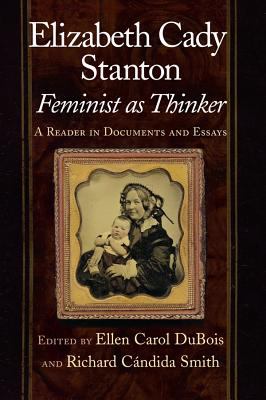 ISBN-13:
9780814719817
ISBN:
0814719813
Pub Date:
2007
Publisher:
New York University Press