Elementary Algebra
Author:
ISBN-13:
9780495105718
ISBN:
0495105716
Pub Date:
2006
Publisher:
Thomson Learning
Summary: Kaufmann and Schwitters have built this text's reputation on clear and concise exposition, numerous examples, and plentiful problem sets. This traditional text consistently reinforces the following common thread: learn a skill; use the skill to help solve equations; and then apply what you have learned to solve application problems. This simple, straightforward approach has helped many students grasp and apply fundam...ental problem solving skills necessary for future mathematics courses in an easy-to-read format. The Eighth Edition of ELEMENTARY ALGEBRA includes new and updated problems, revised content based on reviewer feedback and a new function in iLrn. This enhanced iLrn homework functionality was designed specifically for Kaufmann/Schwitters' users. Textbook-specific practice problems have been added to iLrn to provide additional, algorithmically-generated practice problems, along with useful support and assistance to solve the problems for students.

Kaufmann, Jerome E. is the author of Elementary Algebra, published 2006 under ISBN 9780495105718 and 0495105716. Thirty five Elementary Algebra textbooks are available for sale on ValoreBooks.com, thirteen used from the cheapest price of $4.95, or buy new starting at $82.68. [read more]
Product Details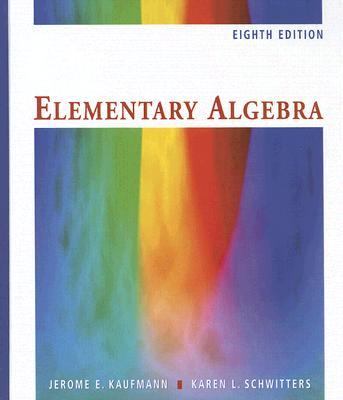 ISBN-13: 9780495105718
ISBN: 0495105716
Pub Date:
2006
Publisher:
Thomson Learning
www.ValoreBooks.com is the #1 site for cheap Elementary Algebra rentals, or used and new copies that can get to you quickly.