Elegy
Author:
ISBN-13:
9780415367769
ISBN:
041536776X
Pub Date:
2008
Publisher:
Routledge
Summary:
Elegy is the public display of private grief, but in an age of televised funerals and visible bereavement, such displays of mourning take on different meanings through being open to public scrutiny.Providing an overview of the history of elegy and the different ways in which the term is used, David Kennedy:- Outlines the origins and key characteristics of canonical and modern elegy.- Provides close readings of texts
...
including early English elegies, the elegies of Tennyson, Arnold and Hardy, AIDS and breast cancer elegies, contemporary poetry and film- Examines the psychology and cultural background underlying works of mourning, introducing the theories of Freud, Lacan and Derrida.- Surveys the latest critical approaches, the diffusion of elegy beyond poetry into contemporary writing and how it has been adapted post- 9/11.Emphasising and explaining the significance of elegy today, this illuminating guide to an emotive literary genre will be of interest to students of literature, media and culture.

Kennedy, David is the author of Elegy, published 2008 under ISBN 9780415367769 and 041536776X. One hundred one Elegy textbooks are available for sale on ValoreBooks.com, fifty used from the cheapest price of $95.00, or buy new starting at $95.00.
[read more]
Product Details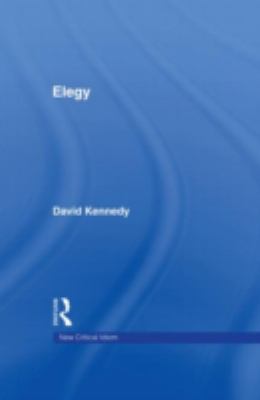 ISBN-13:
9780415367769
ISBN:
041536776X
Pub Date:
2008
Publisher:
Routledge
Valore Books is the college student's top choice for cheap Elegy rentals, or new and used copies for sale.