Electromagnetics
Author:
ISBN-13:
9780132433846
ISBN:
0132433842
Pub Date:
2010
Publisher:
Prentice Hall
Summary:
Electromagneticsis a thorough text that enables readers to readily grasp EM fundamentals, develop true problem-solving skills, and really understand and like the material. It is meant as an"ultimate resource" for undergraduate electromagnetics. FEATURES: 371 outstanding worked examples, with very detailed and instructive solutions, tightly coupled to the theory 650 outstanding homework problems, fully supported by so
...
lved examples (a demo example for every problem) New pedagogy and clear, rigorous, complete, and logical presentation of material with no missing steps Great flexibility for different options in coverage, including the transmission-lines-first approach 500 unique multiple-choice conceptual questions, for active teaching/learning and assessment, available on-line 400 MATLAB computer exercises and projects, many with tutorials and m files, available on-line www.pearsonhighered.com/notaros Branislav M. Notaroa is Associate Professor of Electrical and Computer Engineering at Colorado State University, where he conducts research in computational electromagnetics, antennas, and microwaves. He received the Ph.D. degree from the University of Belgrade, Yugoslavia, where he then served as Assistant Professor. He also was Assistant and Associate Professor at the University of Massachusetts Dartmouth. He has published three workbooks and 80 papers. Prof. Notaroa was the recipient of the 2005 IEEE MTT-S Microwave Prize, 1999 IEE Marconi Premium, 1999 URSI Young Scientist Award, 2005 UMass Dartmouth Scholar of the Year Award, 2004 UMD COE Dean's Recognition Award, and 2009 CSU Excellence in Teaching Award.

Notaros, Branislav M. is the author of Electromagnetics, published 2010 under ISBN 9780132433846 and 0132433842. Two hundred sixteen Electromagnetics textbooks are available for sale on ValoreBooks.com, fifty eight used from the cheapest price of $161.99, or buy new starting at $193.00.
[read more]
Rent

$65.65

Used

$161.99

New

$193.00

Alternate

$75.00
Product Details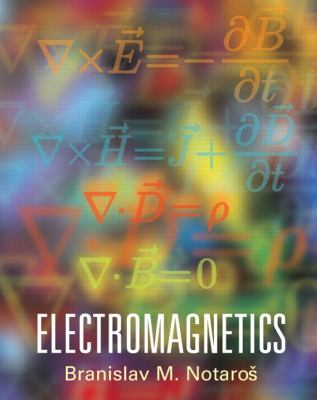 ISBN-13:
9780132433846
ISBN:
0132433842
Pub Date:
2010
Publisher:
Prentice Hall
ValoreBooks.com is the best place for cheap Electromagnetics rentals, or new and used condition books for purchase.