Electrical Systems Design
Author:
ISBN-13:
9780139754753
ISBN:
013975475X
Pub Date:
2002
Publisher:
Prentice Hall
Summary: For sophomore-level courses in Electrical Power Distribution Systems and Electrical Systems Design in Electronics and Computer Technology in 2-year colleges. Also appropriate for electrical apprentice and industrial training programs. This text explains the fundamentals of electrical system design, emphasizing the use of the National Electric Code? (NEC?) requirements. Written by an instructor with both teaching and ...real-world experience in power distribution, this text leads students through a basic overview of systems commonly found in residential, commercial, and industrial occupancies, then progresses to more advanced topics such as voltage drop, short circuit, coordination, and harmonics. The text emphasizes practical, real-world applications in all areas.

Bosela, Theodore R. is the author of Electrical Systems Design, published 2002 under ISBN 9780139754753 and 013975475X. Five hundred seventy five Electrical Systems Design textbooks are available for sale on ValoreBooks.com, one hundred nine used from the cheapest price of $116.90, or buy new starting at $198.94. [read more]
Rent $46.25
Used $116.90
New $198.94
Product Details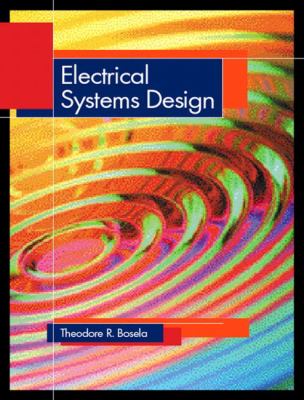 ISBN-13: 9780139754753
ISBN: 013975475X
Pub Date:
2002
Publisher:
Prentice Hall
www.ValoreBooks.com is a student's number one resource for cheap Electrical Systems Design rentals, or used and new condition books available to purchase and have shipped quickly.