Edge of Victory Rebirth
Author:
ISBN-13:
9780345446107
ISBN:
0345446100
Publisher:
Random House Publishing Group
Summary:
Chapter One "You've had worse ideas, Luke," Mara Jade Skywalker reluctantly admitted, nodding her head back so the sunlight fell on her face and her deep red-gold tresses trailed behind her. Posed that way, eyes closed, framed against the blue line of the sea, her beauty closed Luke's throat for a moment. Mara's green eyes opened, and she looked at him with a sort of wistful fondness before arching a cynical brow. "G
...
etting all fatherly on me again?" "No," he said softly. "Just thinking how ridiculously lucky I am." "Hey. I'm the one with the hormone swings. You aren't trying to one-up me, are you?" But she took his hand and gave it a squeeze. "Come on," she said. "Let's walk a bit more." "You sure you're up to it?" "What, you want to carry me? Of course I'm up to it. I'm pregnant, not hamstrung. You think it would be better for our kid if I spent all day lying around sucking on oorp?" "I just thought you wanted to relax." "Absolutely. And this is relaxing. Us, all alone, on a beautiful island. Well, sort of an island. Come on." The beach was warm beneath Luke's bare feet. He had been reluctant to agree to going shoeless, but Mara had insisted that's what one did on a beach. He found, to his surprise, that it reminded him pleasantly of his boyhood on Tatooine. Back then, in the relative cool of early evening-- one of those rare periods when both blazing suns were nearly set--sometimes he would take his shoes off and feel the still-warm sand between his toes. Not when Uncle Owen was looking, of course, because the old man would launch into an explanation of what shoes were for in the first place, about the valuable moisture Luke was losing though his soles. For an instant, he could almost hear his uncle's voice and smell Aunt Beru's giju stew. He had an urge to put his shoes back on. Owen and Beru Lars had been the first personal casualties in Luke Skywalker's battle against the Empire. He wondered if they had known why they died. He missed them. Anakin Skywalker may have been his father, but the Lars had been his parents. "I wonder how Han and Leia are doing?" Mara wondered aloud, interrupting his reverie. "I'm sure they're fine. They've only been gone a few days." "I wonder if Jacen should have gone with them?" "Why not? He's proven himself capable often enough. And they're his parents. Besides, with half the galaxy after him, it's better he stay on the move." "Right. I only meant it makes things worse for Jaina. It's hard on her, doing nothing, knowing her brother is out fighting the fight." "I know. But Rogue Squadron will probably call her up pretty soon." "Sure," Mara replied. "Sure they will." She sounded far from convinced. "You don't think so?" Luke asked. "No. I think they would like to, but her Jedi training makes her too much of a political liability right now." "When did the Rogues ever care about politics? Has someone said this to you?" "Not in so many words, but I hear things, and I'm trained to listen to the words behind the words. I hope I'm wrong, for Jaina's sake." Her feelings brushed Luke in the Force, running a troubled harmony to her assertion. "Mara," Luke said, "my love, while I'll believe you when you say picking up parasites on a strange beach is relaxing--" "Nonsense. This sand is as sterile as an isolation lab. It's perfectly safe to walk barefoot. And you like the feel of it." "If you say so. But I forbid any more

Keyes, Greg is the author of Edge of Victory Rebirth, published under ISBN 9780345446107 and 0345446100. One hundred seventy five Edge of Victory Rebirth textbooks are available for sale on ValoreBooks.com, sixty three used from the cheapest price of $0.01, or buy new starting at $5.16.
[read more]
Product Details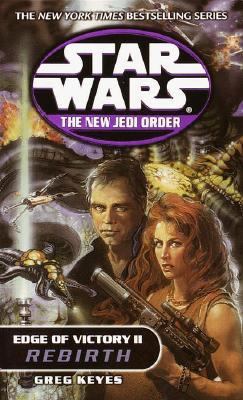 ISBN-13:
9780345446107
ISBN:
0345446100
Publisher:
Random House Publishing Group
Valore Books is the top book store for cheap Edge of Victory Rebirth rentals, or used and new condition books that can be mailed to you in no time.