Economics
Author:
ISBN-13:
9780321278968
ISBN:
0321278968
Pub Date:
2005
Publisher:
Addison Wesley
Summary: Economicsoffers a novel approach to the principles of economics course based on three principles:Ongoing assessment is an essential component of the learning process;Students/Readersunderstandconcepts better when they are presented in the context of engaging stories; Students/Readersremembermore when they connect concepts to what they see or read in the news and what they experience in their every day life.

...Leeds, Michael A. is the author of Economics, published 2005 under ISBN 9780321278968 and 0321278968. One hundred eighty Economics textbooks are available for sale on ValoreBooks.com, sixteen used from the cheapest price of $0.24, or buy new starting at $147.05. [read more]
Rent $68.36
Used $0.24
New $147.05
Alternate $4.05
Product Details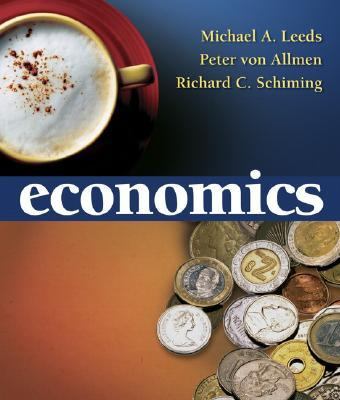 ISBN-13: 9780321278968
ISBN: 0321278968
Pub Date:
2005
Publisher:
Addison Wesley
ValoreBooks.com is the best place for cheap Economics rentals, or used and new condition books that can be mailed to you in no time.