Discrete Mathematics
Author:
ISBN-13:
9780198534273
ISBN:
0198534272
Publisher:
Oxford University Press, Incorporated
Summary: This text is a carefully structured, coherent, and comprehensive course of discrete mathematics. The approach is traditional, deductive, and straightforward, with no unnecessary abstraction. It is self-contained including all the fundamental ideas in the field. It can be approached by anyone with basic competence in arithmetic and experience of simple algebraic manipulations. Students of computer science whose curric...ulum may not allow the study of many ancillary mathematics courses will find it particularly useful. Mathematics students seeking a first approach to courses such as graph theory, combinatorics, number theory, coding theory, combinatorial optimization, and abstract algebra will also enjoy a clear introduction to these more specialized fields. The main changes to this new edition are to present descriptions of numerous algorithms on a form close to that of a real programming language. The aim is to enable students to develop practical programs from the design of algorithms. Students of mathematics and computer science seeking an eloquent introduction to discrete mathematics will be pleased by this work.

Biggs, Norman L. is the author of Discrete Mathematics, published under ISBN 9780198534273 and 0198534272. Fifty Discrete Mathematics textbooks are available for sale on ValoreBooks.com, nine used from the cheapest price of $2.44, or buy new starting at $87.30. [read more]
Used $2.44
New $87.30
Alternate $18.70
Product Details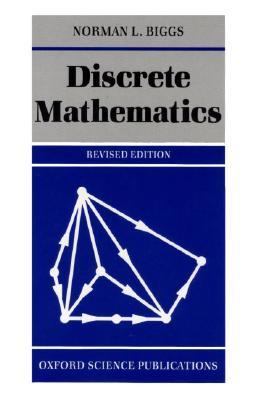 ISBN-13: 9780198534273
ISBN: 0198534272
Publisher:
Oxford University Press, Incorporated
www.ValoreBooks.com is hard to beat for cheap Discrete Mathematics rentals, or new and used copies ready to be shipped fast.