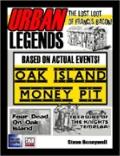 Dgs_360 Urban Legends - Oak Island Money Pit
Author:
ISBN-13:
9781411699939
ISBN:
1411699939
Pub Date:
2005
Publisher:
Lulu.com
Summary:
Who built the Money Pit? Pirates hiding the treasures plundered from ships across the coast of North America? The lost hoard of the fallen Knights Templar? Aliens? Escapees from Atlantis? There is only one way to find out, and that's to dig to the bottom!Written by Steve Honeywell (with fantastic art by Aleksandar Sotirovski), 'œOak Island' has been populated with intriguing characters with in-depth background, each
...
with possible plot twists that can take advantage of the various possible contents of the Money Pit.The Oak Island Money Pit is the first in Dog Soul Publishing's new 'œUrban Legends' line. We will do with 'œUrban Legends' and the d20 Modern system the same as we have done with our 'œFolkloric' line and fantasy d20. By using the strangest world of all, our own, for inspiration we will explore the stranger side of life of the modern world and make it available for Modern players and GMs.
[read more]