Decolonization
Author:
ISBN-13:
9780415318204
ISBN:
0415318203
Edition:
2
Pub Date:
2004
Publisher:
Routledge
Summary: In Decolonization , Raymond Betts considers this 'process' decolonization and the outcomes which have left a legacy of problems, drawing on numerous examples including Ghana, India, Rwanda and Hong Kong. He examines: the effects of the two World Wars on the colonial empire the expectations and problems created by independence the major demographic shifts accompanying the end of the empire the cultural experiences, li...terary movevments and the search for ideology of the dying empire and the newly independent nations. With an annotated bibliography and a chronology of political decolonization, Decolonization gives a concise, original and multi-disciplinary introduction to this controversial theme and analyzes what the future holds beyond the empire.

Betts, Raymond F. is the author of Decolonization, published 2004 under ISBN 9780415318204 and 0415318203. Two hundred three Decolonization textbooks are available for sale on ValoreBooks.com, one hundred used from the cheapest price of $101.56, or buy new starting at $101.56. [read more]
Product Details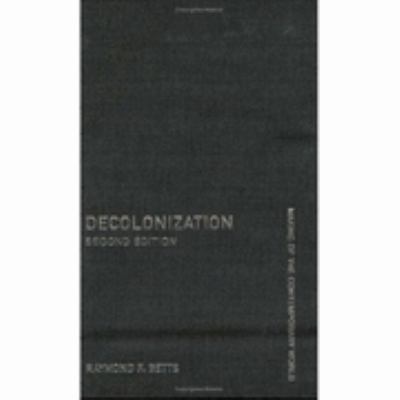 ISBN-13: 9780415318204
ISBN: 0415318203
Edition: 2nd
Pub Date:
2004
Publisher:
Routledge
Valore Books is unbeatable for cheap Decolonization rentals, or used and new condition books that can be mailed to you in no time.