Crazy Hair Day
Author:
ISBN-13:
9780763624644
ISBN:
0763624640
Pub Date:
2008
Publisher:
Candlewick Press
Summary: Stanley Birdbaum couldn't be more excited. He has rolled and wrapped and dyed his hair. He has dipped it and sprayed it and made it, well, perfect. He is ready to celebrate Crazy Hair Day at school. But when Stanley saunters up to the classroom, he learns, to his horror, that Crazy Hair Day is . . . next week. To make matters worse, today is School Picture Day, and everyone is expected to line up for the class photo!... What's Stanley to do? "A crackerjack read-aloud with a great finish. . . . This delightful tale of confusion and compassion is just the ticket to defuse potential teasing." -- SCHOOL LIBRARY JOURNAL

Saltzberg, Barney is the author of Crazy Hair Day, published 2008 under ISBN 9780763624644 and 0763624640. Five hundred ninety four Crazy Hair Day textbooks are available for sale on ValoreBooks.com, two hundred twenty used from the cheapest price of $0.01, or buy new starting at $4.56. [read more]
Product Details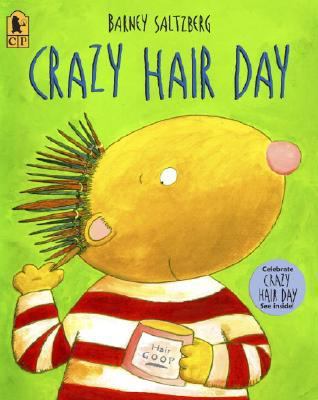 ISBN-13: 9780763624644
ISBN: 0763624640
Pub Date:
2008
Publisher:
Candlewick Press
ValoreBooks.com is unbeatable for cheap Crazy Hair Day rentals, or new and used condition books for purchase.