Construction Measurements
Author:
ISBN-13:
9780471836636
ISBN:
047183663X
Edition:
2
Pub Date:
1988
Publisher:
Wiley & Sons, Incorporated, John
Summary:
The past decade and a half have seen a virtual revolution in equipment and procedures for field and office measurement. Transits have become nearly 100% optical, electronic distance-measuring is now standard, hand-held calculators and microcomputers are increasingly evident, and the use of satellites for positioning ground points will soon be practical. These dramatic developments have prompted this second edition of
...
Construction Measurements. Updated and expanded, Construction Measurements, Second Edition gives you clear, accurate coverage of:The new technology of Global Positioning, the positioning of an occupied station on the geoidal surface by means of satellitesThe use of electronic distance measurementNew procedures such as the use of lasers in construction, ' radial surveying,' inertial surveying, and othersApplication of calculators, computers and computers softwareConstruction Measurements, Second Edition continues its comprehensive coverage of traditional topics as well. You'll find chapters on difference of elevation, distance measuring by taping, laying out angles, stakes, and hubs, control marks, shafts and tunnels, offshore measurements, and more. Working appendices provide details on special problems and optics. Invaluable as a reference, review or tutorial, Construction Measurements, Second Edition will serve surveyors, construction contractors, and engineers.

Barry, B. Austin is the author of Construction Measurements, published 1988 under ISBN 9780471836636 and 047183663X. One hundred two Construction Measurements textbooks are available for sale on ValoreBooks.com, fifty one used from the cheapest price of $168.74, or buy new starting at $168.74.
[read more]
Product Details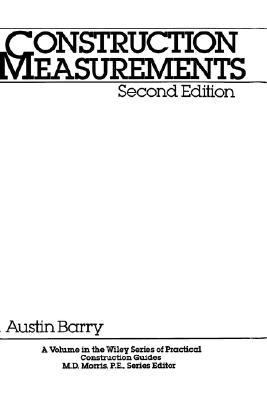 ISBN-13:
9780471836636
ISBN:
047183663X
Edition:
2nd
Pub Date:
1988
Publisher:
Wiley & Sons, Incorporated, John
www.ValoreBooks.com is the best place for cheap Construction Measurements rentals, or used and new condition books that can be mailed to you in no time.