Chronology: With a Special Project by Paul Chan
Author:
ISBN-13:
9781933128313
ISBN:
1933128313
Pub Date:
2007
Publisher:
Sternberg Press
Summary:
In these multiple excursions through recent artist film-installations, Daniel Birnbaum pursues a problem that preoccupied Deleuze in post-war cinema: what is the logic of this peculiar time ?after finitude?, based neither in God nor Man, salvation nor destiny; and what does it mean for our brains and our lives to invent new ways to make it visible? With a light wry wit, he thus renews a question, at once aesthetic an
...
d philosophical, still very much with us.John Rajchman, Philosopher, Columbia UniversityBoth a deep insight into the future and a protest against forgetting (Eric Hobsbawm), Daniel Birnbaum's essay Chronology is quite simply the best art book of the year.Hans Ulrich Obrist, Co-director of exhibitions and director of international programs, Serpentine Gallery A philosophical essay on time, phenomenology and beyond, Daniel Birnbaum's Chronology was reviewed in frieze as a ?compelling and sophisticated take on the common theme of Deleuzian immanence.' Brian Dillon, writer and criticWhereas many theoretical books littering the bookshops of art institutions are laudations of excess, Daniel Birnbaum's convictions presented in Chronology cut a way through the ?caesuras of non-meaning and blankness into the thick web of sense.' The works of artists such as Paul Chan, Stan Douglas, Eija-Liisa Ahtila, Doug Aitken, Dominique Gonzalez-Foerster, Tacita Dean, Darren Almond, Tobias Rehberger, Pierre Huyghe, and Philippe Parreno are scrutinized as so many attempts to capture the very dialectic of time itself. The book can be seen as ?an exploration of the crystallization of time that uses phenomenology as a pretext for saying things about artworks that create their own theories'.Fully illustrated, this 2nd edition features a new introduction where the author reflects on the book's critical reception and further extends Deleuzian ideas to the fields of art and film. In his afterword on Paul Chan, Daniel Birnbaum discusses a new sense of messianic time, a new chronology, as experienced with The 7 Lights series by the artist.In addition to annotated artwork illustrations, the book contains a special insert by Paul Chan: twelve original drawings capturing the spatial metaphors evocated in the text. The book also features flip-book sequences from two films (Lady of Shanghai, 1947, Enter the Dragon, 1973) which elaborate on the Deleuzian themes of mirrors, death, and the crystallization of time.Daniel Birnbaum's Chronology has become a productive point of reference and a source of inspiration for critics, curators, and ? perhaps more surprisingly ? dancers and choreographers. It has been reviewed extensively across Europe and has been translated into Russian and French, with German and Italian editions forthcoming.Daniel Birnbaum is Director of the Stadelschule and its Portikus gallery in Frankfurt am Main. A contributing editor of Artforum, he is the author of several books on art and philosophy, including The Hospitality of Presence: Problems of Otherness in Husserl's Phenomenology (1998). He co-curated the 50th Venice Biennale (2003) and the 1st Moscow Biennale (2005). He is the co-organizer, with Christine Macel, of Airs de Paris (2007), an exhibition that celebrates the 30th anniversary of the Centre Pompidou.

Birnbaum, Daniel is the author of Chronology: With a Special Project by Paul Chan, published 2007 under ISBN 9781933128313 and 1933128313. Two Chronology: With a Special Project by Paul Chan textbooks are available for sale on ValoreBooks.com, one used from the cheapest price of $114.45, or buy new starting at $64.53.
[read more]
Product Details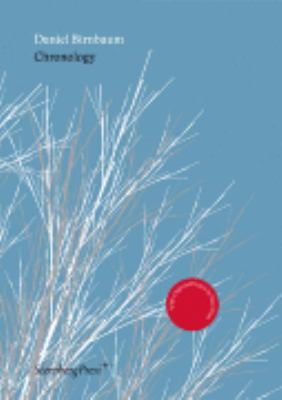 ISBN-13:
9781933128313
ISBN:
1933128313
Pub Date:
2007
Publisher:
Sternberg Press
Valore Books is the smartest bookstore for cheap Chronology: With a Special Project by Paul Chan rentals, or new and used copies ready to be shipped fast.