Chemistry: An Introduction to General, Organic, and Biological Chemistry
Author:
11 Customer Product Reviews
ISBN-13:
9780321693457
ISBN:
0321693450
Edition:
11th editi
Publisher:
Prentice Hall
Summary: This textbook provides a unique introduction to chemistry especially for students who don't have a chemistry background. Written in a dynamic and conversational style this chemistry textbook looks at the subject from a general, organic and biological perspective. It is designed to give a chemistry background for people who want to enter jobs in the field of health. In addition to the theory and facts it has exercises... and study tools to aid comprehension. This is just one of the many cheap chemistry textbooks we can provide within a matter of days.

Timberlake, Karen C. is the author of Chemistry: An Introduction to General, Organic, and Biological Chemistry, published under ISBN 9780321693457 and 0321693450. Six hundred fifty seven Chemistry: An Introduction to General, Organic, and Biological Chemistry textbooks are available for sale on ValoreBooks.com, one hundred thirty four used from the cheapest price of $60.55, or buy new starting at $122.04. [read more]
Rent $36.41
Used $60.55
New $122.04
Alternate $51.09
Customer Product Reviews
11 REVIEWS
5 star(4)
4 star(7)
3 star(0)
2 star(0)
1 star(0)
Average Customer Review
I loved every part of Chemistry but my favorite part is balancing eqations and the math aspects of this Chemistry book!

I took Chemistry 101 at my college for entry into the nursing program. It was a complete success and I ended up with a high A in the class!

read more

very interesting and well information. helped me know a lot about chemistry that I didn't know.

very useful in any class, both on campus and off. helped me with my writing in english

read more

It explains everything in details plus if comes with a cd.

The basics of chemistry, it was very effective and useful.

read more

Some of the examples used in the book were unusual.

I found the periodic table useful and many other charts were useful.

read more

I liked the tables, it put the information into use

I would change some of the language so that if you didnt know the info you might still understand part of it.

read more

The class I took was called An Introduction to Chemistry and was a basic Chemistry class where we learned everything from titration to gases, liquids and solids.

I have not read other books on the same subject matter.

read more

it was alright, much better than previous chemistry books i have recieved, also it was helpful in giving a brief overview of all chemistry subjects.

it is much more simplified than the other books i have had, like a chemistry for dummies kind of thing.

read more

The most interesting topic was the topic of organic and biological chemistry and the chemical reactions that take place in our body. We learned about metabolic pathways and the production of energy from ATP. Also, how small changes in our body whether it be electrolyte imbalance or infection can alter all the chemical changes that occur.

It covered General, Organic and Biological chemistry. It was effective in making the topics interesting and easy to learn. It provided great illustrations and examples. It was very helpful in my online class as I had no other illustrations to go by.

read more

Chemistry 100 at SMC. The book was much more helpful than the instructor.

It would be helpful if it was explained in everyday terms or at least if that was part if the explanation.

read more

I used this book for Pre-Nursing Chemistry and it was more helpful than my actual professor.

Some of the diagrams are confusing and did not help that much.

read more

It is fine the way it is. The material is easy to comprehend and follow. It covers all the basis that we cover in general organic chemistry and a little more.

It anything more examples, because they are really helpful. But overall nothing the book is and was great for what I needed it for.

read more
SEE MORE REVIEWS
Product Details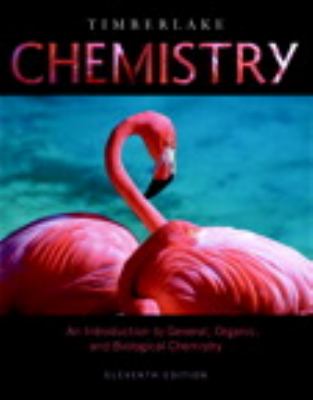 ISBN-13: 9780321693457
ISBN: 0321693450
Edition: 11th editith
Publisher:
Prentice Hall
www.ValoreBooks.com is your source for cheap Chemistry: An Introduction to General, Organic, and Biological Chemistry rentals, or new and used copies for sale.