Chemistry: An Introduction to General, Organic, and Biological Chemistry (11th Edition)
Author:
23 Customer Product Reviews
ISBN-13:
9780321693457
ISBN:
0321693450
Edition:
11
Pub Date:
2011
Publisher:
Prentice Hall
Summary:
This textbook provides a unique introduction to chemistry especially for students who don't have a chemistry background. Written in a dynamic and conversational style this chemistry textbook looks at the subject from a general, organic and biological perspective. It is designed to give a chemistry background for people who want to enter jobs in the field of health. In addition to the theory and facts it has exercises
...
and study tools to aid comprehension. This is just one of the many cheap chemistry textbooks we can provide within a matter of days.

Karen C. Timberlake is the author of Chemistry: An Introduction to General, Organic, and Biological Chemistry (11th Edition), published 2011 under ISBN 9780321693457 and 0321693450. Four hundred three Chemistry: An Introduction to General, Organic, and Biological Chemistry (11th Edition) textbooks are available for sale on ValoreBooks.com, one hundred twenty five used from the cheapest price of $2.00, or buy new starting at $38.42.
[read more]
Rent

$15.00

Used

$2.00

New

$38.42

Alternate

$8.79
Customer Product Reviews
23 REVIEWS

5 star

(10)

4 star

(12)

3 star

(1)

2 star

(0)

1 star

(0)
About dofferent molecules in the air that we live in everyday and how bonds work such as covalent and ionic bonds. Also all the names for each dogferent molecule and the different elements that is associated

It could of been better but its a chemistry book! What do people expect

read more

I am an older student and appreciated the great detail that went in the chemistry equations, and fundamentals of chemistry. Each assignment was easily referenced.

Biomolecuar is a pre-requisite for nursing. I wasn't sure I would be able to get a good grip, but the book was very helpful.

read more

The online features were really helpful in understanding the course material better

Basic Chemistry. The teacher was not helpful so the book was easy to follow and self teach

read more

Chemistry is a tough course but this book covered it all maybe not enough articles about practical use.

Covered everything I needed for the course quizzes and tests went right along with book content

read more

General basic chemistry and basic Oragamic chem. Book broke everything down very well and put it in simple terms. Lots of practice questions to help prepare for exams.

Even number questions because they don't provide the answers for them- just the odds have answers.

read more

Intro to organic and biochemistry was a very intense class. iIt mostly required you to teach yourself It would not be possibly to receive a decent grade without the help of the textbook. Review the chapters in the book were extremely helpful when it came to studying for major exams as well as doing the practice questions at the end of each section. The examples in the book were very clear and straight forward and make this chemistry course a bit easier and less stressful.

The book is great the way it is already. The only thing I would probably prefer would be to provide a CD where you can study more practice questions.

read more

This book has very useful information and has helped me through an entire year of school. The tables were the best! My teacher often referred to the book herself when she was stumped on something. Like I said this book helped me through an entire year of college.

Love how detailed this workbook is. It has images already labeled for you. The best thing is is that some of the images are not labeled and you have to label them. It was so much fun for me.

read more

General Chemistry. The book was very effective and had all the information I needed to receive an A in my General Chem and Lab class.

My class was online and my professor did give out Powerpoint presentations that included the main the idea from each chapter, but during quiz's and tests I did have to review in the book for some details that were not included in my professor's Powerpoints. I enjoyed Chemistry mainly because of how I could relate to it in real life situations considering that I am going into nursing. I received an A in my Gen Chem class by working hard on my studying and being thorough.

read more

It didn't tell me how to solve the math problems associated with chemistry

Chemistry and it went into a lot of detail on topics

read more

i think it could be more spread out some of the info could be explained a little better

it was on online chemistry course for a prerequestite to a nursing program. not all that easy online.

read more

The most useful thing learned in this book was the successful ways that it setup the most basic and fundamental concepts of chemistry such as the periodic table explaining fully how it functions, why its set up the way it is. This concept is used throughout every chemistry class that will be taken.

The most interesting thing to me in this book was the tid-bits labeled Chemistry Link to Health. These were found through out the book and most people studying chemistry are entering the field of medicine, and even if your not, its just interesting and nice to see how these symbols and numbers apply in the real world. Its hard when your studying in the class to keep in mind how these things would apply after awhile you just start seeing equations numbers letters memorizing things and forgetting what its actually all for.

read more

The most interesting thing I learned in this book was learning about the steroids because at my school we deal with a lot of medicine including steroids and I found how they work fascinating.

This book is a little boring compared to other books I have read on the same subject matter. The book is hard to stay focused on.

read more
SEE MORE REVIEWS
Product Details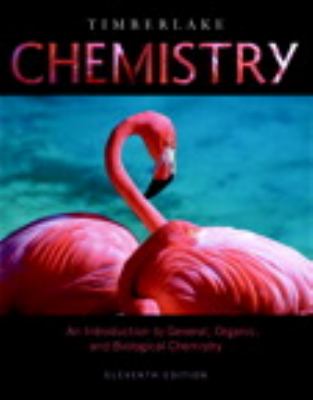 ISBN-13:
9780321693457
ISBN:
0321693450
Edition:
11th
Pub Date:
2011
Publisher:
Prentice Hall
www.ValoreBooks.com is your source for cheap Chemistry: An Introduction to General, Organic, and Biological Chemistry (11th Edition) rentals, or new and used copies for sale.