Business in Action
Author:
ISBN-13:
9780130179623
ISBN:
0130179620
Publisher:
Prentice Hall PTR
Summary:
Business in Action is a compelling model of today's most effective instructional techniques. This textbook is interactive, Internet-supported, integrated, innovative, and intriguing, so using this text is a plus for instructors and students. Five factors will make your classes livelier, more relevant, and more enjoyable. interactiveThe myPHLIP (Learning on the Internet Partnership) companion Web site offers one-click
...
access to a wealth of free online resources created by an award-winning team of educators. It's by far the most advanced, text-specific site available for an introductory business course! Internet-supported "See It on the Web" and "Learn More Online" Internet exercises give students practice with the rich resources of the World Wide Web. These features expose students to resourceful business sites that extend chapter material. All exercises provide navigational directions as well as student guidance and hints, offering a truly productive learning experience. integratedIntegrated questions and exercises link chapter material with concepts covered previously in the text. This requires students to use their critical thinking skills to make important decisions. innovativeOnly Business in Action has such a wide variety of innovative and involving features, activities, and resources within a highly flexible framework: Behind the Scenes Vignettes Business Mysteries Business PlanPro Exercises Focus on E-Business Boxes E-Business Chapter E-Commerce Online Supplement See It on the Web Exercises Video Cases Sharpening Your Communication Skills Handling Difficult Situations on the Job Building Your Team Skills Exploring Career Opportunities Developing Your Research Skills Spotlight on Five Major Challenges myPHLIP Companion Web site with extraordinary resources E-Biz: Prentice Hall Guide to E-Business and E-Commerce intriguingA series of intriguing business mysteries at real companies promotes an exciting, active learning environment in the classroom. The company being investigated in each "Business Mystery" has violated at least one fundamental principle of business. Students are asked to assist two business detectives in solving the mystery by identifying, analyzing, and applying clues to the evidence in each case.

Bovaee, Courtland L. is the author of Business in Action, published under ISBN 9780130179623 and 0130179620. Eighteen Business in Action textbooks are available for sale on ValoreBooks.com, four used from the cheapest price of $0.01, or buy new starting at $44.98.
[read more]
Product Details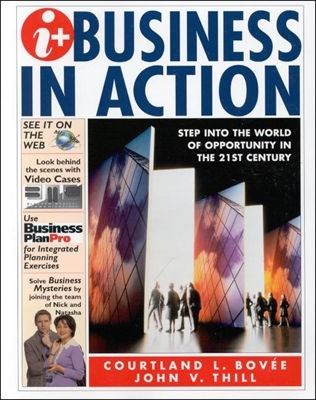 ISBN-13:
9780130179623
ISBN:
0130179620
Publisher:
Prentice Hall PTR
www.ValoreBooks.com is unbeatable for cheap Business in Action rentals, or used and new condition books available to purchase and have shipped quickly.