Business Communication Today
Author:
3 Customer Product Reviews
ISBN-13:
9780132539555
ISBN:
0132539551
Edition:
11th Revis
Pub Date:
2011
Publisher:
Prentice Hall
Summary: John V Thill and Courtland Bovee co-wrote Business Communication Today; for cheap prices, you can buy it today in pre-owned condition from our marketplace. The cheapest titles are available here to help with your business and economics studies, and this text book is among the best. Published in 2011 by Prentice Hall, this is the 11th revised edition of Business Communication Today. Used copies can be bought easily, o...r you can rent Business Communication Today online for discounted prices short term. Don't pay top dollar elsewhere when you can enjoy discounted prices here. Our buyback service ensures we'll always have copies to sell.

Bovee, Courtland is the author of Business Communication Today, published 2011 under ISBN 9780132539555 and 0132539551. Four hundred twenty three Business Communication Today textbooks are available for sale on ValoreBooks.com, one hundred fifty three used from the cheapest price of $46.95, or buy new starting at $107.36. [read more]
Rent $22.83
Used $46.95
New $107.36
Alternate $44.99
Customer Product Reviews
3 REVIEWS
5 star(1)
4 star(0)
3 star(1)
2 star(0)
1 star(1)
Average Customer Review
This communication book made business concepts and practices easy to learn and remember.

The book was not easy to read if you had no previous kinesiology knowledge

read more

There was nothing useful about the book because we did not have to use it.

The primary subject of this book was to understand business subjects like resumes, cover letters, and how to present in front of a group of people. The book was not effective at all because I did not have to use it for the class. The professor basically had everything on the computer and buying the book was pointless.

read more

some of the examples of how to format business documents were mildly helpful

the class was Communication for Professionals and covered topics such as writing resumes, oral presentations, generating executive summaries and writing business reports.

read more
Product Details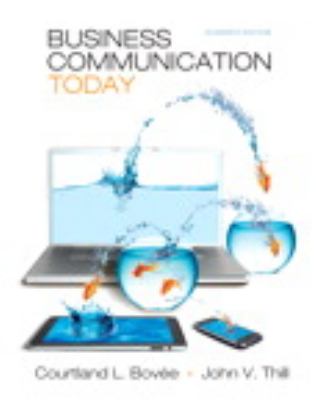 ISBN-13: 9780132539555
ISBN: 0132539551
Edition: 11th Revisth
Pub Date:
2011
Publisher:
Prentice Hall
www.ValoreBooks.com is the college student's top choice for cheap Business Communication Today rentals, or used and new copies available to buy.