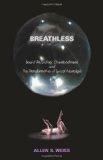 Breathless: Sound Recording, Disembodiment, and the Transformation of Lyrical Nostalgia
Author:
ISBN-13:
9780819565914
ISBN:
0819565911
Pub Date:
2002
Publisher:
Wesleyan
Summary:
Breathless explores early sound recording and the literature that both foreshadowed its invention and was contemporaneous with its early years, revealing the broad influence of this new technology at the very origins of Modernism. Through close readings of works by Edgar Allan Poe, Stephane Mallarme, Charles Cros, Paul Valery, Villiers de L'Isle-Adam, Jules Verne, and Antonin Artaud, Allen S. Weiss shows how sound re
...
cording's uncanny confluence of human and machine would transform our expectations of mourning and melancholia, transfiguring our intimate relation to death. Interdisciplinary, the book bridges poetry and literature, theology and metaphysics. As Breathless shows, the symbolic and practical roles of poetry and technology were transformed as new forms of nostalgia and eroticism arose.
[read more]