Binding Ties
Author:
ISBN-13:
9780743496636
ISBN:
0743496639
Pub Date:
2005
Publisher:
Simon & Schuster
Summary:
Chapter One The North Las Vegas neighborhood was slowly making the transition from cozy to shabby. A 420 on the radio, this homicide call -- which on the Strip would be treated like a presidential assassination, every squad car rolling in with lights strobing and siren blaring -- had generated only one North Las Vegas PD squad, which sat parked out front of the house as quietly as if this was the officer's home......
...
and not a crime scene.Which was what brought LVPD Crime Scene Investigation supervisor Gil Grissom to this declining residential area, and not for the first time -- wasn't a habit yet, but calls in these environs were definitely on the upswing.Seasoned veteran Grissom descended on this troubled neighborhood like the angel of death, albeit a casually attired one, such a study in black was he: sunglasses, Polo shirt, slacks, shoes. Gray was invading the dark curly hair, however, intruding as well into a beard he'd grown to save himself time, only to find trimming the thing was its own burden. He'd thought of shaving the damn thing off, at least twenty times, but that much of an expenditure of time he wasn't ready to invest.Gil Grissom's life was his work, and his work was death.Nick Stokes, behind the wheel, parked the black CSI Tahoe behind the NLVPD cruiser; after him, Warrick Brown pulled in a second Tahoe. Grissom and Stokes had ridden in the lead vehicle while Warrick shared his with fellow CSIs, Catherine Willows and Sara Sidle.Muscular, former college jock Nick had dark hair cut close and an easy smile that belied how seriously he took his job. The heroic-jawed CSI wore jeans and a T-shirt with the LVPD badge embroidered over the left breast.Green-eyed, African-American Warrick was tall and slender, and his expression seemed serious most of the time, though wry twists of humor did come through. In his untucked brown T-shirt and khaki slacks, the loose-limbed Warrick seemed more relaxed than Nick, but Grissom knew both young men were tightly wired, in a good way, excellent analysts and dedicated hard workers.Even more intense than her two male teammates, Sara Sidle wore her dark hair to her shoulders and preferred comfortable clothes like today's tan T-shirt and brown slacks. Still, she was as striking in her way as Catherine Willows, a redhead with the chiseled features of a model and the slenderly curvaceous body of a dancer. Wearing an aqua tank top and navy slacks, Catherine still more closely resembled the exotic performer she had been to the crack scientist she'd become.Though they worked the graveyard shift, Grissom's team -- thanks to manpower shortages this week -- was currently working overtime to help cover dayshift court appearances and vacations. Normally, these CSIs would have showed up at a crime scene in the middle of the night, but with the OT, they found themselves arriving at this one with the summer sun already high in a cloudless blue sky, the heat dry but not oppressive, tourist friendly.Pulling off his sunglasses, Grissom studied the bungalow: tiny and, particularly for this neighborhood, still in decent repair. The dirt yard was small and bisected by a crumbling sidewalk that passed a steel flagpole on its way to the open front door. Two flags hung limp on the windless day, an American flag at the top and a Green Bay Packers one beneath it, while a short gravel driveway ran up the far side of the house, a dark blue early nineties Chevy parked in the middle.Even though homes surrounded the bungalow all along the block, to Grissom, the house looked lonely, somehow. Heat shimmered off the pavement outside this house; but sadness shimmered off the house itself.As Grissom hopped down from the Tahoe, his peripheral vision caught an unmarked Ford pulling up on the other side of the street. He paused to glance back and see the detective getting out, a lanky six-three in an ill-fitting gray suit -- Bill Damon. The detective was s

Collins, Max Allan is the author of Binding Ties, published 2005 under ISBN 9780743496636 and 0743496639. Fifty Binding Ties textbooks are available for sale on ValoreBooks.com, forty nine used from the cheapest price of $0.01, or buy new starting at $8.76.
[read more]
Product Details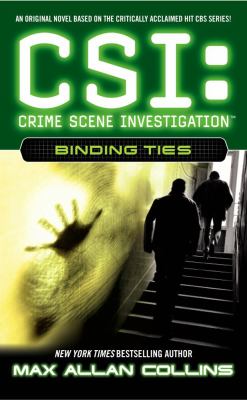 ISBN-13:
9780743496636
ISBN:
0743496639
Pub Date:
2005
Publisher:
Simon & Schuster
Valore Books is hard to beat for cheap Binding Ties rentals, or new and used copies for sale.