Basic Statistics for Behavioral Science
Author:
ISBN-13:
9780618528134
ISBN:
061852813X
Edition:
5
Pub Date:
2005
Publisher:
Houghton Mifflin College Div
Summary: "Basic Statistics for the Behavioral Sciences "demystifies and fully explains statistics without leaving out relevant topics or simply presenting formulas, in a format that is non-threatening and inviting to students. Gary Heiman has written a textbook--clearly, patiently, and with an occasional touch of humor--that teaches students not only "how "to compute an answer on demand, but also "why "they should perform the... procedure or what their answer reveals about the data. Heiman has achieved five objectives in writing this text: to take a conceptual-intuitive approach, to present statistics within an understandable research context, to deal directly and positively with student weaknesses in mathematics, to introduce new terms and concepts in an integrated way, and to create a text that students will enjoy as well as learn from!Appendix B explains the basics of how to use SPSS to analyze data. Tips on using SPSS are integrated throughout the text and now have a specific index to guide students."A Quick Review" features contain a simple review of previous concepts, additional examples, and study questions.A section on "Statistics in Published Research" helps students gain a perspective on how researchers use statistics and relates what students have learned in the chapter to what they will see (and won't see) when reading published research. (Includes using the APA format for stats.)Additional pedagogical features include a "Getting Started" section at the beginning of each chapter, "Statistical Notation" sections, "Remember" callout sections, computation formulas, "Putting It All Together" sections, chapter summaries, and summaries of formulas.

Heiman, Gary W. is the author of Basic Statistics for Behavioral Science, published 2005 under ISBN 9780618528134 and 061852813X. Thirty two Basic Statistics for Behavioral Science textbooks are available for sale on ValoreBooks.com, twenty six used from the cheapest price of $1.00, or buy new starting at $27.75. [read more]
Rent $66.89
Used $1.00
New $27.75
Product Details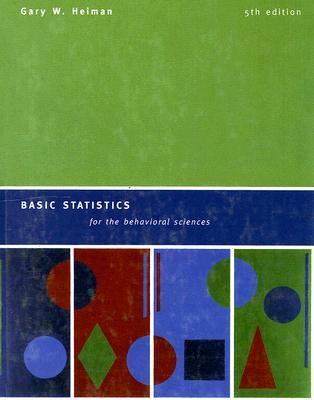 ISBN-13: 9780618528134
ISBN: 061852813X
Edition: 5th
Pub Date:
2005
Publisher:
Houghton Mifflin College Div
Valore Books is the college student's top choice for cheap Basic Statistics for Behavioral Science rentals, or new and used copies ready to be shipped fast.