Art: A Brief History (5th Edition)
Author:
8 Customer Product Reviews
ISBN-13:
9780205017027
ISBN:
0205017029
Edition:
5
Pub Date:
2011
Publisher:
Pearson
Summary:
This art history textbook is designed to appeal to a wide student population from different backgrounds. It focuses on art from a global non-western perspective bringing together a wide range of concepts and opportunities for art appreciation. The images are beautiful and the explanations and theories are presented in an easy to understand style. It tries to ensure that students, teachers and the public are enthusias
...
tic about art history and theory. We have many cheap art history textbooks available to rent or buy brand new. Our pre-owned textbooks are of the highest used condition as we offer a buyback service to those who have completed college studies or finished with their study books.

Marilyn Stokstad is the author of Art: A Brief History (5th Edition), published 2011 under ISBN 9780205017027 and 0205017029. Two hundred sixty eight Art: A Brief History (5th Edition) textbooks are available for sale on ValoreBooks.com, sixty nine used from the cheapest price of $48.68, or buy new starting at $163.37.
[read more]
Rent

$15.00

Used

$48.68

New

$163.37

Alternate

$66.47
Customer Product Reviews
8 REVIEWS

5 star

(4)

4 star

(2)

3 star

(1)

2 star

(0)

1 star

(1)
it didnt really assist me in class until i had to study for the final exam. a lot of information in every chapter to memorize

art history shaped the way we present and look at art today in the modern world

read more

The images of art work. Our teacher tested us on specifics about each image in the chapters and the book gave a thorough background for each piece.

Key concepts aren't bold or highlighted. There is a lot of reading that you have to get through to get to any main points.

read more

Art Appreciation - the class covered only the information contained in the book

I would not change anything about the book. The information in the class covered only the book. No other sources were needed.

read more

I learned the history and origins of art and the works of art.

It was well written and I read the chapters cover to cover, this is the first book that I have actually read so thoroughly and it was actually interesting. Everything that was on the test was from this book and not from the lecture portion of the class.

read more

The most useful thing was all the history which involved all the art eras. Where many paintings came from.

This book was more interesting and had better illustrations compared to other books I read.

read more

This book covered all required lesson that we had to take part in during our semester.

Learned a lot about modern and Renaissance art. It was very interesting to learn abouit the different tiles of art and canvas and paint.

read more

My class was a Survey class of History of Art in a Foundation course.

the amount of pictures was very helpful because it provided lots of visuals, and the text was pretty easy to read

read more

This text is much more vast in the material it covers then other Art History texts I have used. It ends up being slightly vague in some areas, leaving you wanting more on a subject in some particularly interesting areas, however the amount of information and history that it covers is impressive.

Some of the sections it covers were not helpful or needed in the class I was taking, however would probably be interesting to read on my own time.

read more
SEE MORE REVIEWS
Product Details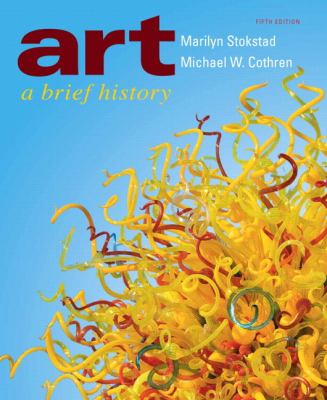 ISBN-13:
9780205017027
ISBN:
0205017029
Edition:
5th
Pub Date:
2011
Publisher:
Pearson
www.ValoreBooks.com has some of the lowest prices for cheap Art: A Brief History (5th Edition) rentals, or new and used condition books ready for you to buy.