Aroma-Therapy Kit
Author:
ISBN-13:
9780804819817
ISBN:
0804819815
Publisher:
Tuttle Pub
Summary: From scented candles and potpourri to massage oils and fragrant teas, we have all already relied on the calming, healing influences of aromatherapy. This ancient healing art is a touchstone of holistic therapy: it relieves the stresses and fatigues of everyday life, and ameliorates many common complaints. To begin making use of this effective self-help practice, just open this beautifully-packaged starter kit. Includ...ing a delightfully illustrated book and five bottles of pure essential oil, each discussed in detail, as well as numerous recipes for natural remedies and an A to Z glossary, this kit is a complete introduction to the aromatic wonders of natural essential oils.

Devereux, Charla is the author of Aroma-Therapy Kit, published under ISBN 9780804819817 and 0804819815. Twenty three Aroma-Therapy Kit textbooks are available for sale on ValoreBooks.com, twenty two used from the cheapest price of $0.01, or buy new starting at $22.24. [read more]
Product Details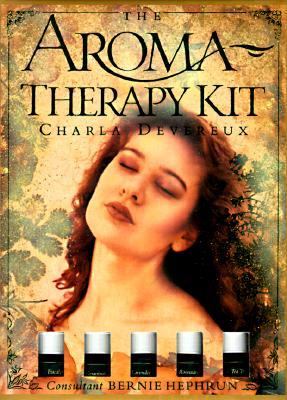 ISBN-13: 9780804819817
ISBN: 0804819815
Publisher:
Tuttle Pub
www.ValoreBooks.com is your source for cheap Aroma-Therapy Kit rentals, or used and new copies available to buy.