Anthem
Author:
ISBN-13:
9780452286351
ISBN:
0452286352
Pub Date:
2004
Publisher:
Penguin USA
Summary:
Ayn Rand is the author of Atlas Shrugged, philosophically the most challenging bestseller of its time. Her first novel, We the Living, was published in 1936, followed by Anthem. With the publication of The Fountainhead in 1943, she achieved a spectacular and enduring success. Rand's unique philosophy, Objectivism, has gained a worldwide audience. The fundamentals of her philosophy are set forth in such books as Intro
...
duction to Objectivist Epistemology, The Virtue of Selfishness, Capitalism: The Unknown Ideal, and The Romantic Manifesto. Ayn Rand died in 1982. Leonard Peikoff is universally recognized as the world's premier Any Rand scholar. He worked closely with Rand for thirty years and was designated by her as heir to her estate. He has taught philosophy at Hunter College and New York University. Dr. Peikoff's books include The Ominous Parallels and Objectivism: The Philosophy of Ayn Rand. He is also the co-editor of The Ayn Rand Reader, available in a Plume edition. For further information, you can go to his website, alshow.com.

Rand, Ayn is the author of Anthem, published 2004 under ISBN 9780452286351 and 0452286352. Two hundred three Anthem textbooks are available for sale on ValoreBooks.com, eighty used from the cheapest price of $0.01, or buy new starting at $7.48.
[read more]
Rent

$16.99

Used

$0.01

New

$7.48
Product Details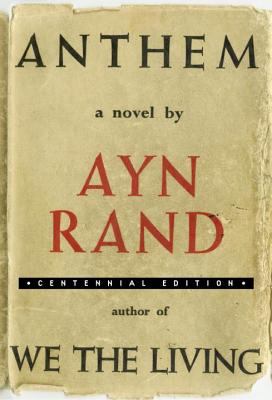 ISBN-13:
9780452286351
ISBN:
0452286352
Pub Date:
2004
Publisher:
Penguin USA
www.ValoreBooks.com is the college student's top choice for cheap Anthem rentals, or new and used copies for sale.