Anatomy & Physiology: The Unity of Form and Function
Author:
26 Customer Product Reviews
ISBN-13:
9780073378251
ISBN:
0073378259
Publisher:
McGraw-Hill
Summary:
This is an essential textbook for understanding human anatomy and physiology. Clear and concise text aids comprehension of key concepts and it includes great colour images and illustrations. This is an impressive college textbook guaranteeing a true grounding in the principles of anatomy and physiology with a focus on the unifying areas of form and function. Whether you buy or rent your anatomy textbooks we offer a
...
huge selection of high quality cheap textbooks in great condition. In most cases your book will ship almost immediately.

Saladin, Kenneth S. is the author of Anatomy & Physiology: The Unity of Form and Function, published under ISBN 9780073378251 and 0073378259. Eight hundred Anatomy & Physiology: The Unity of Form and Function textbooks are available for sale on ValoreBooks.com, four hundred eighty four used from the cheapest price of $58.99, or buy new starting at $134.33.
[read more]
Rent

$14.98

Used

$58.99

New

$134.33

Alternate

$59.89
Customer Product Reviews
26 REVIEWS

5 star

(20)

4 star

(3)

3 star

(3)

2 star

(0)

1 star

(0)
I used this book in nursing school, in this class we learned how the body functioned.

The primary subject is anatomy. This book was very long but the information was well prepared.

read more

The nervous system. Because it has great pictures and descriptions. I also like learning about the heart. Anatomy is my favorite subject.

Nothing. I thought it was a great book for learning!

read more

I learned a lot about the human body and how everything functions and works.

How to operate my computer effectively and learned some pretty neat tools to use in power point and excel.

read more

The book was very helpful, but I think the pictures where the least helpful, only because they couldve been more detailed.

It was an anatomy class for nursing school. We learned about the body and its functions.

read more

Some of the labeling was not as precise as in real life. It would be nice if it was more realistic.

This book was great with labeling parts of the body and color coding sections. Some of it was run-on descriptions of where things were which got confusing. All together a great book.

read more

Everything, from top to bottom in the human body. All the systems and small pieces that all together function as a whole unit

Easier drawns, and not that many parragraphs all together, which makes it harder to read...

read more

There really was nothing about this book that wasn't helpful. I used everything from the chapters themselves to the index and glossary daily.

I learned that our body's functions are interconnected. This book is in depth, and at times overwhelming with information.

read more

To be honest, I have nothing negative to report about this textbook. It was well written and extremely helpful in my achieving a good grade in the class.

This textbook was very well written and organized. It made it easy to follow my professor as we moved through each section of the class.

read more

My anatomy and physiology classes were my favorite classes this year. My professor did a great job of explaining what we needed to know but the book just made it that much easier. Not only the text itself, but also the diagrams of the human body were so helpful.

I wouldn't change anything about the book itself. What I would change is something on the online Connect program that goes with the textbook. I would make it so we could create our own study lists on the cadaver dissection tool and also on the flash card type study tool. That would make it so much more efficient by hiding the stuff we aren't required to learn.

read more

The text was a little hard to follow but I have found that all medical text books seem to be that way.

I never realized that there were so many parts to all the bones that make up the body. This book had a lot of great information and diagrams.

read more

The primary subject of this book is the anatomy and biology of the human body, and how the human body functions. This was one of the best books I have had for anatomy, it explained everything thoroughly and very detailed.

The only thing I would have personally liked was that the organization of the body be in a different section of the book. It was a little difficult to jump right into the chemistry of the body.

read more

The book was not helpless in any type of way. I have no bad review on this book.Maybe, the editor could put more pictures inside, other than that the book was great.

It was well written and because of the images for each section.

read more
SEE MORE REVIEWS
Product Details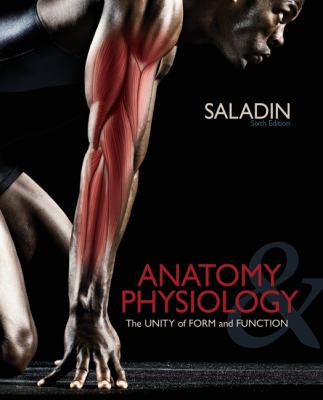 ISBN-13:
9780073378251
ISBN:
0073378259
Publisher:
McGraw-Hill
Valore Books is your source for cheap Anatomy & Physiology: The Unity of Form and Function rentals, or new and used copies for sale.