Anatomy & Physiology: The Unity of Form and Function
Author:
13 Customer Product Reviews
ISBN-13:
9780073378251
ISBN:
0073378259
Publisher:
McGraw-Hill
Summary: This is an essential textbook for understanding human anatomy and physiology. Clear and concise text aids comprehension of key concepts and it includes great colour images and illustrations. This is an impressive college textbook guaranteeing a true grounding in the principles of anatomy and physiology with a focus on the unifying areas of form and function. Whether you buy or rent your anatomy textbooks we offer a ...huge selection of high quality cheap textbooks in great condition. In most cases your book will ship almost immediately.

Saladin, Kenneth S. is the author of Anatomy & Physiology: The Unity of Form and Function, published under ISBN 9780073378251 and 0073378259. Five hundred eighty nine Anatomy & Physiology: The Unity of Form and Function textbooks are available for sale on ValoreBooks.com, two hundred twenty nine used from the cheapest price of $53.77, or buy new starting at $125.55. [read more]
Rent $15.40
Used $53.77
New $125.55
Alternate $35.99
Customer Product Reviews
13 REVIEWS
5 star(9)
4 star(2)
3 star(2)
2 star(0)
1 star(0)
Average Customer Review
The only reason that I give this book a 4 is the fact that I rarely used it. It is full of very good information.

This book is better compared to other books. It is full of very good information

read more

The least helpful part of the book were the pages because everything else was very helpful from the pictures to the definitions.

The class that required me to use this was college math. It is a requirement to obtain my AS in medical assisting.

read more

A side margins for notes, applicable case studies to relate to the material.

I would have like more interactions with the materials i.e. Little tips or stories.

read more

Anatomy and Physiology the teacher recommended we buy this book because its the best but the cold harsh reality is it isnt

It was very informative but was also all over the place. What I mean to say is that the book goes into to much detail in one chapter that isnt even on the subject and the information is spread throughout the book. i,e if you want to know about adrenal glands youll find them in chapter 1, 3, 9, 12, while the chapter on Glands only skims over it Ive gotten better textboooks than this

read more

not so many pages but it was very interesting! I really enjoyed learning about the reproductive system considering I am trying to become an OBGYN! I think this book Is very helpful to students perusing a career in anatomy

a little more on the endocrine system. ive noticed some parts weren't really explained well. I do think the book was phenomenal and I could learn something new every time you flip a page. my interest was always kept during my time reading this book.

read more

This book was awesome! There is not one thing I would change about it.

I used this text for Anatomy & Physiology I. I also used this text for Anatomy & Physiology II.

read more

The diagrams and illustrations help a great deal with studying. I personally am a visual learner and this book helped me a lot with studying human anatomy.

The individual systems of the body and their function were by far the most interesting.

read more

I liked the end study guides for each chapter. It helped alot

Anatomy and physiology for the lecture part of the class. Very helpful

read more

Very well written book. Easy to understand. Excellent pictures and photographs for studying.

Movements of body parts was very well explained. Great lexicon of biomedical prefixes in back of book

read more

A study guide for each chapter. Note cards for each body system. Lighter weight.

Anatomy and Physiology II. Required class for RN BSN

read more

The labeled figures in this book pointed out clearly the information that we had to know for the course. This laboratory manual went along perfectly with the chapters from the Anatomy and Physiology book also by the same author

The main subject of this book is anatomy and physiology. This book covered all aspects of the subject with clear labeled diagrams as well as plenty of self quizzes and fill in the blanks to help learn.

read more

This book is all about the structure of the human body and how this structures work together. It takes a look at every aspect of the body, the different systems and the processes that go on inside and keep us funtioning.

I used this book for two classes, Anatomy and Physiology I & II.

read more
SEE MORE REVIEWS
Product Details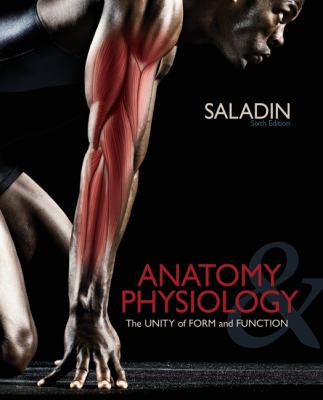 ISBN-13: 9780073378251
ISBN: 0073378259
Publisher:
McGraw-Hill
Valore Books is your source for cheap Anatomy & Physiology: The Unity of Form and Function rentals, or new and used copies for sale.