Analytical Chemistry Refresher Manual
Author:
ISBN-13:
9780873713986
ISBN:
0873713982
Publisher:
C R C Press LLC
Summary: Analytical Chemistry Refresher Manual provides a comprehensive refresher in techniques and methodology of modern analytical chemistry. Topics include sampling and sample preparation, solution preparation, and discussions of wet and instrumental methods of analysis; spectrometric techniques of UV, vis, and IR spectroscopy; NMR, mass spectrometry, and atomic spectrometry techniques; analytical separations, including li...quid-liquid extraction, liquid-solid extraction, instrumental and non-instrumental chromatography, and electrophoresis; and basic theory and instrument design concepts of gas chromatography and high-performance liquid chromatography. The manual also covers automation, potentiometric and voltammetric techniques, and the detection and accounting of laboratory errors.Analytical Chemistry Refresher Manual will benefit all laboratory workers, water and wastewater professionals, and academic researchers who are looking for a readable reference covering the fundamentals of modern analytical chemistry.

Kenkel, John is the author of Analytical Chemistry Refresher Manual, published under ISBN 9780873713986 and 0873713982. Seven hundred eleven Analytical Chemistry Refresher Manual textbooks are available for sale on ValoreBooks.com, two hundred ten used from the cheapest price of $19.89, or buy new starting at $95.20. [read more]
Product Details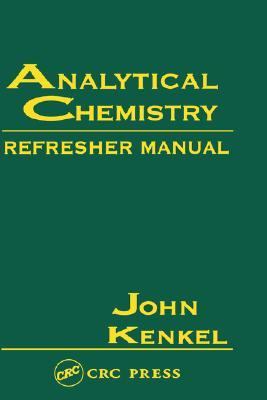 ISBN-13: 9780873713986
ISBN: 0873713982
Publisher:
C R C Press LLC
Valore Books has some of the lowest prices for cheap Analytical Chemistry Refresher Manual rentals, or used and new condition books available to purchase and have shipped quickly.