American Corrections
Author:
10 Customer Product Reviews
ISBN-13:
9781133049739
ISBN:
1133049737
Edition:
10
Pub Date:
2012
Publisher:
Cengage Learning
Summary:
Get to grips with the corrections system in America with this critical text. It is a comprehensive study of the American corrections system and it is presented in a balanced style giving the point of view of both the corrections workers and the offenders. The book's theories are supported by many headline cases and help to give the student a practical understanding. Students will also learn about how offenders are re
...
leased into mainstream life, surveillance, the death penalty and what they need to know about a career in this area. We supply many cheap legal textbooks covering corrections and similar subjects.

Todd R. Clear is the author of American Corrections, published 2012 under ISBN 9781133049739 and 1133049737. Two hundred seventy seven American Corrections textbooks are available for sale on ValoreBooks.com, forty eight used from the cheapest price of $29.99, or buy new starting at $60.00.
[read more]
Rent

$15.00

Used

$29.99

New

$60.00

Alternate

$28.98
Customer Product Reviews
10 REVIEWS

5 star

(7)

4 star

(3)

3 star

(0)

2 star

(0)

1 star

(0)
something i would change about this book is the content and the specific definitions. too much information and doesnt r eally get to the point. A struggle to get the main ideas in check

more definitions and better explanation would be better to concentrate

read more

A more detailed glossary and more Learning objectives

it is better at explaining the system and the pictures are very detailed

read more

This was my favorite course by far. The questions at the end of each chapter challenged ;me and kept me on my toes.

Honestly, I would not change one thing about the contents of this textbook.

read more

I love the study of criminology and learned much about what goes on in the correction system.

There isn't much I would change about the book except to give more case studies.

read more

I really enjoyed this class and the book was a great learning tool throughout the semester.

The flow of the book makes it easy to read and comprehend.

read more

I learned the different types of facilities and how everyone is separated. (Juvenile, Woman Incarceration, & Men's) etc..

The primary subject is learning the different types of facilities. This book was very effective in helping understand the information about incarceration.

read more

It was a really good tool on how the correction systems work in America.

I wish it was easier to understand and more direct. It needed to simplify terms more clearly.

read more

There were no issues with this book. I learned a great deal about our past, presemt, and future jail systems and prisons.

Jail/prison systems back then were far worse than they are today. America is a blessed nation! Foreign nations don't play about criminal offenders who break the law!!

read more

Honestly, no part of this was least helpful. It was a very well designed book and I had no negative thoughts.

Loved this book. Extremely clear, extremely thorough and extremely easy to understand. Pictures and images helped a lot to understand some material.

read more

The book provided great detail about our criminal justice system. It definitely helped me understand it all and pass the class with new. knowledge

Add a few moe illustrations and maybe talk about why the criminals seem to have more rights than the citizens.

read more
SEE MORE REVIEWS
Product Details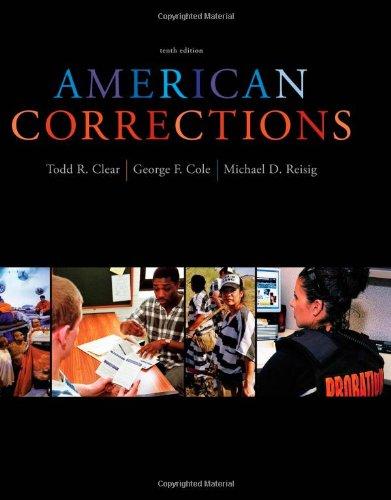 ISBN-13:
9781133049739
ISBN:
1133049737
Edition:
10th
Pub Date:
2012
Publisher:
Cengage Learning
ValoreBooks.com is the best place for cheap American Corrections rentals, or new and used condition books ready for you to buy.